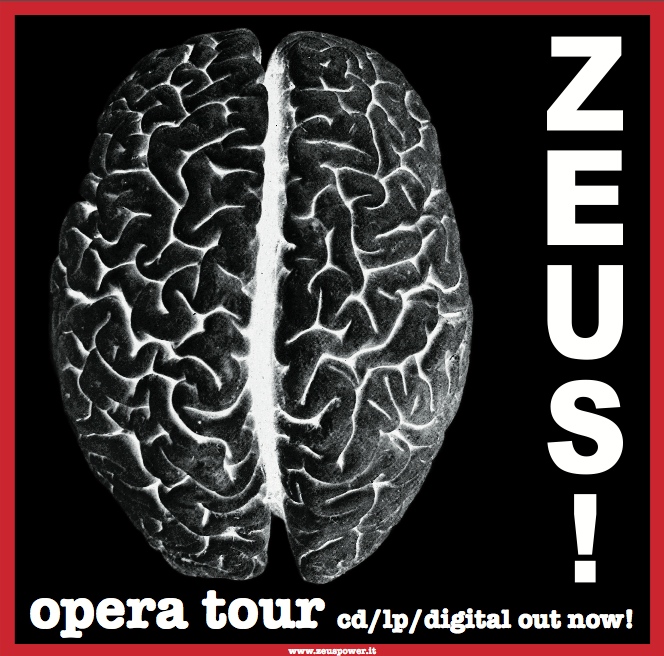 Well, here is something to wake you up on your Monday morning. Apparently I should be keeping a closer eye on the scene in Italy because recently I've been hearing some really great music, and it's not like they are all doing the same things either. Just recently I wrote about The Delay in the Universal Loop, a band (well, one dude) that is creating lushly orchestrated dreamy synth music; and then there was the psych-prog of Julie's Haircut.
Now I'm listening to Zeus, and I want you to do the same. They're a bass & drum prog-metal duo that has less in common with Lightning Bolt than you would think. I mean, I know that whenever I see that a band is a bass/drum duo I get really skeptical right off the bat. I'm such a huge Lightning Bolt fan (that's obvious) that I never think that any other band is ever going to be able to live up to those expectations. I guess that what I forget, or fail to recognize, is that there is still so much that can be done in the format.

What Zeus does is they create highly energetic, rhythmically complex music that swings from jazzy and tight to violent and cacophonous the next. Often times, as in Grindmaster Flesh (very clever, guys), the duo is in lockstep throughout a meter that refuses to sit still until suddenly everything erupts into a static haze with screaming and crash cymbals covering near everything. They do have one thing that Lightning Bolt tends to (dare I say) lack, and that is shape.Though Zeus does still focus more on rhythm and less on harmony, they make up for it with contrasting dynamics and formal development. There's more of a part structure at work.
The band's latest, "Opera," was released February 14, 2013 (how sweet) and you can preview the entire thing on their bandcamp and download it for $11, or listen to the entire thing above first. While you are listening, see if you can catch all the puns in the titles of the songs. My personal favorite is "La Morte Young," though "Blast but not Liszt" is a close 2nd. Check out all 11 blasts of noise above.
The band is currently out on a European tour. You can find the dates below.