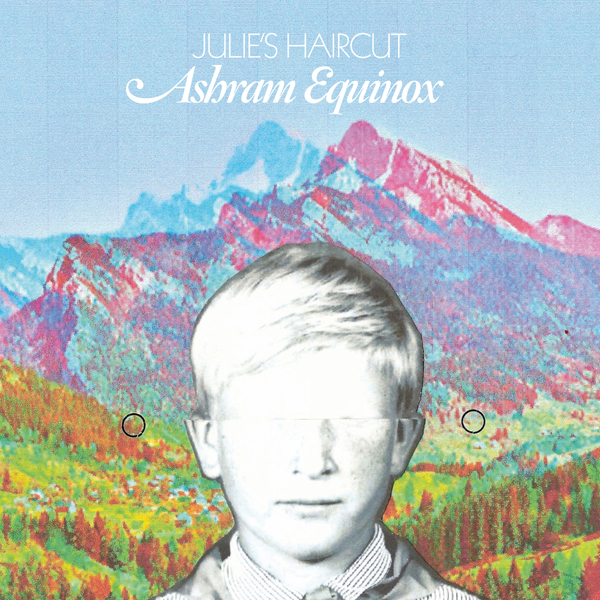 Julie's Haircut is an Italian pysch band, though I'm really trying to think of a point of reference to clue you into the essence of their sound. There are elements of Stereolab in the synth work, but those are criss-crossed with more complex atmospherics, akin to Air's output.
And that might be a good jumping off point. Julie's Haircut is creating atmospheric, meditative psych-prog with songs that would fit nicely onto "Moon Safari" or some of the more kraut-rock inspired, motoric Stereolab tracks. I don't think that those two things need to be mutually exclusive, and the pieces on "Ashram Equinox" explore the sound possibilities of mixing these two worlds to varying degrees. Where "Johin" is more of a driving force, with a persistent rhythmic backbone and droning harmony, "Taarna" is more melody driven, with buzzing and echoed synths casting long lines over top, finishing out with textless vocals, adding a rich complexity to the texture as the piece draws to a close.
I hear the album not only as an exploration of the atmospheric and the motoric, but also as an overall arch form where middle track, fittingly named "Equinox," is nothing but mood, color and drones. But added to that mix is an unmistakable Eastern influence, imitating tabla and the tense sounds of an Oud, managing to evoke an entire landscape with only a few plucked notes.
The latter half of the album continues the trajectory of the first, the balancing act, with more moody instrumentals and driving rhythms. "Taotie" is the most active track on the album, perhaps calling to mind Kraftwerk's "Tour De France," while album closer "Han" uses silence effectively to create more space in the texture with a beautiful simplicity that seems to me to the best way to close an album. The relative silence and calm of "Han" focuses on one short repeated keyboard phrase, cycling around in minimalist contemplation.
"Ashram Equinox" was released on Crash Symbols on October 11th, and as such is currently available from their bandcamp page. The cassette is limited to 100 and are still available. Personally, the artwork goes so well with the album it is definitely worth the few dollars to get a physical copy of the album. In my opinion, it's always nice to have something tangible anyway. Check out the album above and visit Julie's Haircut's site for more info and downloads. And be sure to check out the videos below that work as companion pieces to the album.