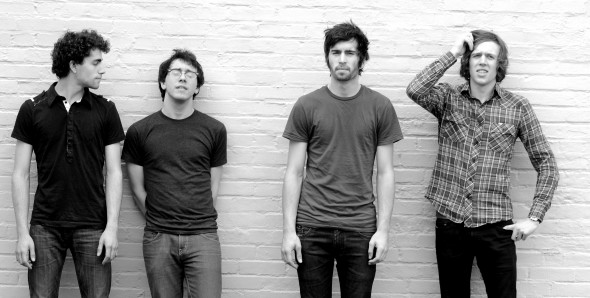 Tokyo Police Club holds a special place in my heart for a few reasons. They are one of those bands that I was lucky to get into on the ground floor. I was guided toward their debut EP and was hooked right away, remaining so since then. It was noticeable though how long it seemed to take them to actually turn out a proper full length album. The "A Lesson in Crime" EP was released in 2006, followed by a two year gap before the release of "Elephant Shell." That's a ridiculously long time to wait while sitting on a successful and exciting EP that a lot of people were talking about. Risky move to say the least. Thankfully the album was solid, if a little on the short side.
The other reason that Tokyo Police Club is close to me is that their 2nd full length, "Champ," was the first album review that I ever did for the now defunct portal site Groovemine.com. I refuse to read it again because I can't imagine how terrible it probably is. I'd like to think that my writing has improved greatly since that first overwrought review. But considering that, and the opportunity that the site gave me to start writing seriously on a blog, maybe without Tokyo Police Club there would be no quartertonality.com.
I've recently been thinking about when the hell (if ever) this band was going to finally put out some more music, though they hinted at the recording process earlier in 2013 on their tumblr with a few Vines, and it looks like the wait is almost over. "Argentina (Parts I, II, III)" was uploaded to the band's youtube at the beginning of December. Looks like they are getting a jump on 2014.
Though the video doesn't feature the band, at least visually, their music is pretty recognizable at this point. Their punchy, energetic pop is catchy as hell, just like always. No huge stylistic shifts are evident in this new track, unless you consider epic length to be a stylistic change. At nearly 9 minutes this is Tokyo Police Club at their most sprawling, which is (again) a pretty daring move for a band that relies heavily on pop hooks and high energy anthems. The band really is breaking the mold that they created for themselves.
As far as I can tell there aren't really any clear boundaries between the three parts, the song just continues to grow and develop through well orchestrated changes and nicely shaped, continuous structure. Guitar breaks trading with buzzing synths and floating melodies carry the song through its many twists and turns that ultimately bring us back home.
Check out the video for "Argentina (Parts I, II, III)" below.
The band has a few scattered dates posted on their site, but I would suggest checking back periodically, because there have got to be many more coming.