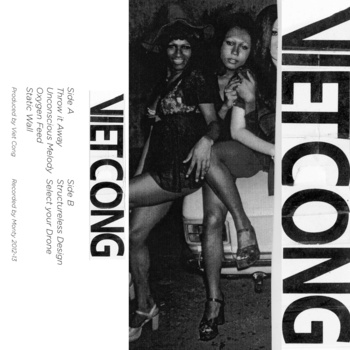 A few weeks ago I wrote about one of the bands that formed after the dissolution of Women aka the band that released Public Strain, arguably the best album released so far this side of the new millennium.
In that post I linked to their song "Quality Arrangement," a live recording that was for all intents and purposes instrumental. I also wrote that I suspected that before long there would be a more substantial recording, something in the album range. Well, "Quality Arrangement" is no longer up on their bandcamp and has been replaced with a full album's worth of songs, just shy of 30 minutes.
The 6 songs show a diverse bit of songwriting chops effortlessly flowing from sections of odd time signatures with intricate guitar parts to a bass driven, synthy, new-wave reminiscent of The Jam. I would hate to taint anything by using the word "prog" in a negative light, but the use of the synth in opening track "Throw it Away" sounds as though it was lifted straight out of an early Yes album.
I'm not entirely sure if the album is called "Cassette" or if this is simply a collection of songs that they are labeling as such, or maybe it's both? The artwork invites this to be recorded to tape and thrown in a walkman for sure. And the sound of the songs, the production, fits this sound perfectly. The overall warmth and clarity in each of the songs is front and center. There's a nice thick low end, but everything has its place in the mix, it's not like the high end of the guitar is lost in a wash of bass.
Now I feel like I have to work back my "prog" comment from earlier. Yes, there are elements of complexity at work with overt shifts in texture and time signature, but only on occasion. The vast majority of the tracks are straight forward, catchy pop tunes that work perfectly. "Oxygen Feed" sounds epic and grand with it's soaring vocal and guitar counterpoint that takes over the chorus, while the track that follows is a bit more psychedelic and subdued featuring prominent use of acoustic guitar.
Something about the album in general reminds me of Buffalo Springfield. I think that the same mood is captured. But, then they have a song like "Structureless Design" that warps ahead to the 80's with the full on new-wave sound coming back again (and takes a few twists and turns of its own). So there you have it, it's equal parts Buffalo Springfield and New Wave. This isn't to say that they can't bring some noise to the party, because they certainly can, and do. For that, check out the final song "Select Your Drones."
You can listen to the entire album on their bandcamp page (and at the top of this post) and purchase it (download only it looks like, but maybe something forthcoming in a physical format?) for the tiny price of $5.
They also have a surprisingly extensive tour underway that stops tonight in Bloomington, IN before heading all over the eastern seaboard. Get out and see them live. Tour dates posted below.
Sep 16
Rachael's Cafe
Bloomington, IN
Sep 17
Cafe Bourbon St. / The Summit
Columbus, OH
Sep 18
Ortlieb's
Philadelphia, PA
Sep 19
Club K
Baltimore, MD
Sep 20
Death By Audio
Brooklyn, NY
Sep 21
Union Pool
Brooklyn, NY
Sep 22
Bard College
Annandale On Hudson, NY
Sep 24
Middlesex Lounge
Boston, MA
Sep 25
O Patro Vys
Montreal, QC
Sep 26
Bar Spectacle L'escogriffe
Montreal, QC
Sep 30
ReNue Boutique
Fredericton, NB
Oct 01
Struts Gallery
Sackville, NB
Oct 02
Plan B
Halifax, NS
Oct 03
Gus' Pub
Halifax, NS
Oct 04
Le Pantoum
Québec, QC
Oct 05
Drones Club
Montreal, QC
Oct 06
The Artel
Kingston, ON
Oct 07
Izakaya Sushi House
Toronto, ON
Oct 08
The Doors Pub
Hamilton, ON
Oct 12
Union Sound Hall
Winnipeg, MB
Oct 20
Wunderbar
Edmonton, AB