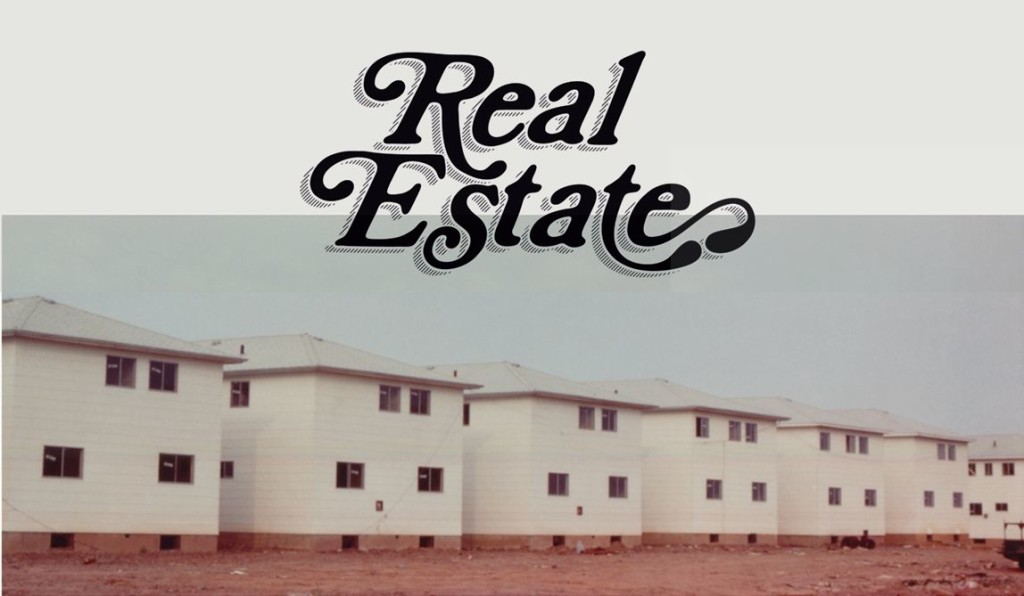 Now that we are into 2014 it's time to anticipate all the releases that will be coming our way soon. Really, the only significant release so far this year has been "Wig Out At Jagbags" from Stephen Malkmus and the Jicks, but I think that the flood gates are about to open. To be honest, that last sentence was just an excuse to type out the title of the new Malkmus album. I think that it's clear that nobody is going to be able to out-name that album, so at least it has that going for it. I'll be talking about it soon enough.
Right now, though, comes a new track from Real Estate. The band has recently (yesterday) announced that Dominoe is set to release their new album, "Atlas," [I'll give you a second to google: "real estate atlas" to find out more information] on March 4th, unless you live in the UK, then you get it a day early. Good for you. The track is titled "Talking Backwards" and is pretty much exactly what one would expect from Real Estate, which is good as 2011's "Days" was a great recording and it's about time that we were given some more of that. It's another breezy, mid-tempo tune delivered lackadaisically over jangling guitars. The great thing about the band is the way that they somehow manage to capture that air of nostalgia in their songs and in their entire sound. The video manages to extend this feeling to the visual aspect, shot on grainy (super8?) film during the recording session. Something about creating distance, physically and temporally. Even though the recording probably happened less than a year ago, it comes off feeling like the band is reliving an old memory. And the song manages to capture this general sense as well. Check it out below.
Next up is Liars. Also releasing their next full-length in March. Not necessarily what one would expect from Liars, but that is actually what one would expect from Liars, that they don't know what to expect. Well, that isn't actually 100% true this time as the new song, "Mess on a Mission," picks up where 2012's "WIXIW" left off: deep into electronics and a more polished studio sound. Liars are an exciting band to keep track of because they are one of few bands around that seem not just willing to try new things all the time, but driven to do so as a rule. They seem to be combining previous elements that they have worked with over the years. Some elements of the vocal technique on their self-titled 2007 LP appear, but none of the shambling self-destructive rock of "Drum's Not Dead" or "They Were Wrong So We Drowned" appear, at least not on this track. Who even knows what the album has in store for us. Check that one out below too.