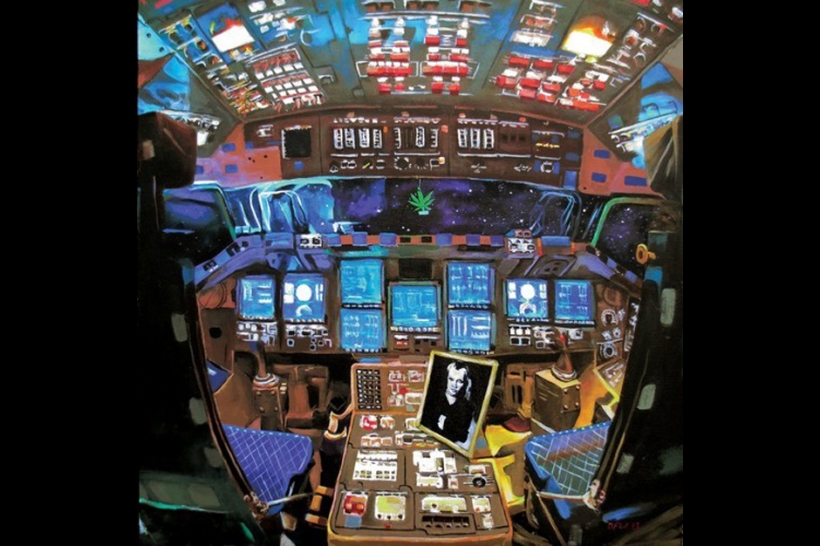 Frontman of Thee Oh Sees, John Dwyer, is releasing a solo album entitled "Hubba Bubba." You can hear the synth heavy (more like exclusively synth) track "Eggs at Night" below.

Last month Thee Oh Sees announced from the stage that "This will be the last Oh Sees show for a long while. So dig in." I learned about it on twitter and quickly started to feel panic set in. It was impossible for me to fathom not having a few new albums by Thee Oh Sees coming out at the steady clip that they have been for the past several years. I see them as the lynchpin that holds the San Francisco scene together. When we all heard that the band was going on a break at first we all went to the worst cast scenario, which would be that we would never hear from them again (though that seems absolutely ridiculous thinking about it now. There is no way that John Dwyer could be away from music for any length of time, let's be honest. So even if there weren't any Thee Oh Sees shows he would still be creating music in some form, either solo or with Ty Segall. By the way, why hasn't that happened yet? That seems like an obvious matchup…but I digress) and then we all came to the realization that a "long while" for a band like Thee Oh Sees, that have been touring non-stop for the past 5 years, is probably only a few months.
So I'm not intending this post to be a send-off to Thee Oh Sees by any stretch. I just want to take a minute and maybe get some other people interested in the band that may only have a passing familiarity with them. Thee Oh Sees are probably the last band that I have gotten really heavily, obsessively into, after seeing them only one time I was hooked. Their live show is amazing, and I can't even begin to imagine how tiring it must be for them to do it over and over and over again. Not just tiring from the physical standpoint, but also add to that the fact that they are typically playing a very similar set night after night. It's become noticeable of late that the jammy extensions of songs are getting jammier, which I think might be a way for the band to try to find new ways to keep things interesting. I'm assuming that this time away is just going to result in throwing all of the old songs out of the set-list and starting over again. Clear it out and start again.
With that in mind, I'd like to give my top 10 tracks by Thee Oh Sees. Sure, some of them are in regular rotation on their (former) set-list, but I don't think that their live show really gives an idea of the band's range.
1. "No Spell" off of their most recent album, 2013's "Floating Coffin." Now, it is really hard to choose a song from this album, there are just so many great tunes. "No Spell" sits toward the middle of the album, tucked away between songs that are more typical Oh Sees fare. I think that what really does it for me is the textless "chorus." It's just different enough from anything that they have ever done, and just has a great emotional grab to it. It's not the typical structure that one would come to expect either.
2. "Tidal Wave" from a 7″ b/w "Heart Sweats." Short and sweet and right to the point. The clipped guitar style in the verse with the slap-back echo that bursts into another textless chorus with John's yell. It's just catchy as hell, and may go unnoticed by some because it doesn't appear on an album….though it has probably been heard by more people than any other song of theirs thanks to it being used in Breaking Bad.
3. "Enemy Destruct" from "Help." There are few bands that know how to open an album as well as Thee Oh Sees do. This is definitely a set-list staple, and for good reason. The guitar stomps through each beat with great intensity. Noisy throughout, and heavy.
Enemy Destruct
4. "Stinking Cloud" from "Castlemania." This album just doesn't fit in with any of the others. It's experimental for them. John sings in an affected croak, saxophones and flutes appear on many of the songs, there are acoustic tracks that trot out a distinct Kinks influence. This track in particular is a bit of a slow burn, with some oddly insightful lyrics.
5. "The Dream" from "Carrion Crawler/The Dream." This album is the one. If you need to know where to start with this band, this is it. And this song is maybe their best live. You have to imagine this songs going almost twice as fast when it's played live. And as soon as those opening chords start to ring out in all their open-stringed glory, all hell is about to break loose and you had better hold on.
6. "Lupine Dominus" from "Putrifiers II." This one let's the not-quite hidden krautrock come out, sounding closer to something that Cave would release, but it still makes complete sense. Psych-krautrock.
7. "I Was Denied" from "Warm Slime." Another anthemic live staple. How could you even go wrong with a song that has a line "I got fucked up, suffice to say. la la la la la, lalalala la, lalalala la, lalala la…" Bonus points for the brief freakout toward the middle of the song.
8. "Toe Cutter-Thumb Buster" from "Floating Coffin." Amazing opening. The last time that I saw them live this is the track with which they opened. The piercing squeal of feedback followed by the bone-crushing low end distortion is something that can't be beat and will never not be effective.
9. "Meat Step Lively" from "Help." Another live regular, though they don't include the flute part live.
10. "The Coconut" from "The Master's Bedroom is Worth Spending a Night In." I picked this one just because it is another one of those songs that show the band stretching out and trying new things. It's moody, a bit slower, and focuses a bit more on vocal harmonies and lengthier, more legato melodies in the verses.
Supposedly, despite the hiatus (JPD insists that the band is not breaking up), there will be a new album released within the next month or two. I will definitely be covering that as soon as I can get my hands on it. Until then, enjoy these, and enjoy the solo track.