(Originally posted on Tympanogram.com on February 22, 2012)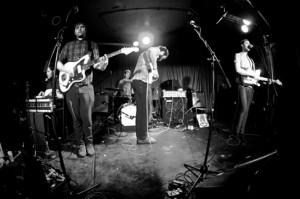 The Calgary Herald has reported that Chris Reimer, guitarist for Women has died. As of right now there is no information, as you can read in the short article, beyond that he has passed away in his sleep.
Bands like Women don't come around too often. They were brash, defiantly experimental and if you ever had the chance to catch them live you would know that they were a phenomenally gifted band with a unique sound and vision. In my mind they were a bit like Sonic Youth with their penchant for noise fueled, disjunct interludes filled with barely controlled feedback. Looking deeper than those surface level considerations one would find intensely chromatic and modal contrapuntal interplay between the guitar parts that boast extended jazz harmonies fastened within a punk rock aesthetic. Production by Chad Vangaalen managed to harness peripheral ambient sounds onto their two albums that contributed an extra layer of grittiness to their already abrasive sound.
It has been up in the air whether Women would reform after their indefinite hiatus began not long after the release of their most recent, and brilliant, Public Strain – though a single, "Bullfight" was released on a split 7?, not appearing on either album, after their breakup as well as a series of eerie live videos recorded for Pitchfork, gave fans like me a glimmer of hope, it looks like this is truly the end. Please do yourself a favor and give a listen to both of Women's albums.
This is a tragic loss of a truly gifted, young musician.
ETA: Christopher's sister, Nikki, has posted a blog with posts to remember him by.
A series of haunting videos on Pitchfork captures 3 fantastic performances of the band recorded just before they stopped playing together.