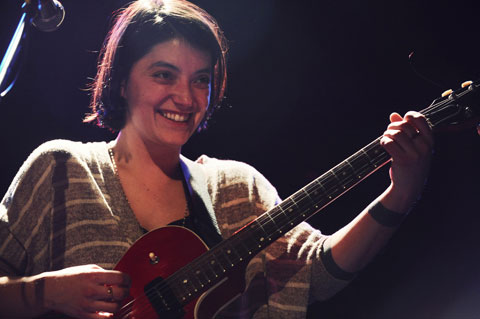 Sharon Van Etten recently played the final show of her tour here in Oregon. The Pickathon is a yearly music festival that happens outside of Portland. This year the festival was on August 4th and we have a really good recording of the entire set. Even more exciting is that this recording provides some really high quality versions of a few new songs that Sharon played that afternoon.
The first song, on my recording simply labeled "New Song" as she opens the set with it and doesn't introduce it, but I think a fair bet is that the song is going to be called "I Know." It's a great choice for a set opener with just Sharon singing at the piano, her voice confident and stronger than ever. She moves effortlessly between a subdued, soft voice drawing us in, and a powerful full-voiced near shout at the top of her range before seeming to calm herself down singing "I know…..I know." The dynamic play pushes and pulls us through the song, while melismatic turns casually float by before coming to an end with Sharon softly singing "all I ever wanted was you."
Abut the other new track, "Tarifa," Sharon explains,
"this next song is about a vacation, it's a new one that we've been working on, it's call Tarifa….it's [in Spain] on a fucking cliff overlooking Morocco, but it is amazing – in the middle of nowhere. There was a bunch of bulls, that I was afraid of, in the pasture next to me, but they could give a shit that I was there. They didn't try to run me over or anything weird. I had to ask my boyfriend, I was like 'can I wear red? Are they gonna charge at me?' They didn't. I tried it out. It was fine. Anyway, this song is about that."
It's more fleshed out than "I Know," beginning with Sharon and her guitar, and the rest of the band soon following. The verses move through a gentle waltz, while the choruses are more concerned with driving straight ahead.
And while you are checking those out, you should also head over to this site to purchase a t-shirt designed by Sharon with all of the proceeds going to charity.
"The artwork used is one of my early contour drawings when I first moved to New York and the charity chosen is Women in Need (WIN).

WIN

transforms the lives of New York City homeless women and their children by providing a holistic solution of safe housing, critical services and ground-breaking programs they need to succeed on their own – so the women can regain their independence and their children can look forward to a brighter future."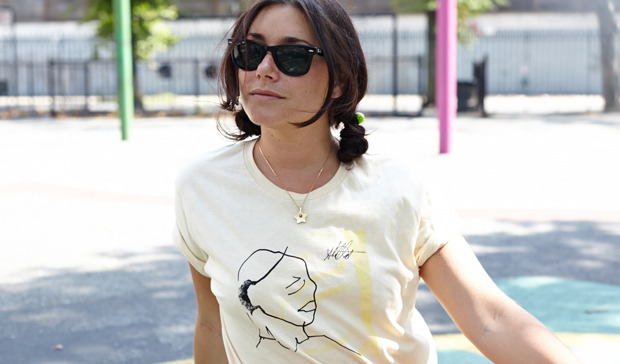 So there you have it. Two new songs and a way to help a great charity. This is where I would normally say "you can catch her on tour" but, like I said, the tour is over. Look for the album within the year. You'll forget by then, but I'll remind you.