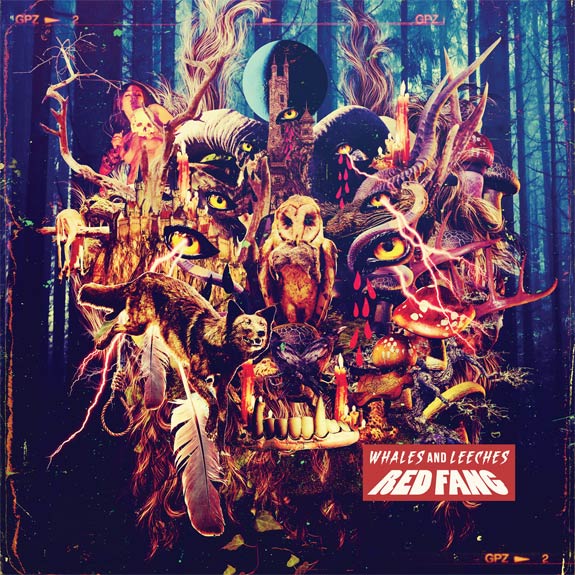 Portland's Red Fang will release its 3rd full length, "Whales and Leeches," next week (October 15 to be exact).
Right off the bat you should know that if you like Mastodon then you would be very interested in giving this album a try. Though there are some pretty key differences in their sound (even if they do seem to both like whales), the overall bone-crushing guitar assault as foundation is pretty much the same, but Red Fang tends more for the straight ahead riff based tunes than Mastodon's comparatively prog-heavy tendencies.
"Whales and Leeches" finds a lot of room to move from one side of the metal genre to the other. A song like "Blood Like Cream" finds strength in a major key with an anthemic chorus, and an uplifting bridge, resembling at times the qualities of hard-core punk. But then take into consideration a track like "No Hope" that follows. It starts off with jarring dissonance before launching directly into another wall of pummeling guitar distortion. Nothing but metal on this track. Full on, take no prisoners thrash metal.



The 7+ minutes of "Dawn Rising" slows things down a bit, multiplying the heaviness exponentially. I think that it has been proven (though I don't have the formula handy at present moment) that the slower a song and the lower the tuning (sounds like they are all the way down to C or something on this one) the heavier the song. I'm trying to place the guest vocal on this one, but I can't quite do it. It may very well be someone else in Red Fang and I'm just not in the know, but whoever it is they have a perfectly gnarly metal sneer and an awesome, powerful high register. Think Bon Scott crossed with Dio.
Really though, I think that the breakout riff-rocker on this one is the album opener, "DOEN." Great way to start off an album. It's a punch right in the face. Heavy. Fast. Unrelenting.
The entire album is like that. Heavy and unrelenting with riffs to spare. It's the way that metal is supposed to be, in my opinion. It's not formulaic and not every song needs a guitar solo, but in the tracks that do have one they are done particularly well.
"Whales and Leeches" is out on Relapse Records on October 15 (October 18 Germany, Belgium, Netherlands and Luxembourg. October 21 in the UK and rest of the world), available as a CD/Deluxe CD/LP/Deluxe 2xLP/Digital or Deluxe Digital. Check the links below to order the album. Limited Edition deluxe CD and LP contains a lenticular/moving cover, expanded packaging and TWO bonus songs.
Web//Youtube//Facebook//Twitter//
They are also currently on tour:
***All dates from Oct 09- Oct 18 with Helms Alee***
Oct 09 Sacramento CA Harlow's w/ Dog Shredder
Oct 10 Los Angeles CA The Troubadour w/ Dog Shredder
Oct 11 San Diego CA Brick by Brick w/ Dog Shredder
Oct 12 Tucson AZ The Rock w/ Dog Shredder
Oct 13 Albuquerque NM Launchpad w/ Dog Shredder
Oct 14 Denver CO Bluebird w/ Dog Shredder
Oct 15 Salt Lake City, UT Urban Lounge w/Gaytheis
Oct 16 Boise ID Neurolux w/Gaytheist
Oct 17 Spokane WA The Center w/Gaytheist
Oct 18 Bellingham WA The Shakedown w/Gaytheist
Nov 09 Seattle WA Showbox at The Market
Nov 10 Vancouver BC Rickshaw theater
***All Dates w/ The Shrine. Nov 30 to Dec 14 with Indian Handcrafts***
Nov 30 San Francisco Slim's
Dec 01 Santa Ana CA The Observatory
Dec 02 Tempe AZ Club Red
Dec 04 Austin TX Red 7
Dec 05 Houston TX Fitgerald's Downtairs
Dec 06 New Orleans LA Siberia
Dec 07 Atlanta GA Drunken Unicorn
Dec 08 Raleigh NC Kings Barcade
Dec 09 Philadelphia PA Underground Arts w/ Cancer Bats
Dec 10 Cambridge MA The Middle East w/ Cancer Bats
Dec 11 New York NY Bowery Ballroom w/Cancer Bats
Dec 13 Montreal QC Cabaret Mile End w/ Cancer Bats
Dec 14 Toronto ON Lee's Palace w/ Cancer Bats (Announce Cancer Bats 10/21)
Dec 15 Detroit MI The Shelter w/ Cancer Bats, Radkey
Dec 16 Chicago IL Logan Square Auditorium w/ Cancer Bats, Radkey
Dec 17 Minneapolis MN Triple Rock w/ Radkey
Dec 19 Colorado Springs CO The Black Sheep w/ Radkey