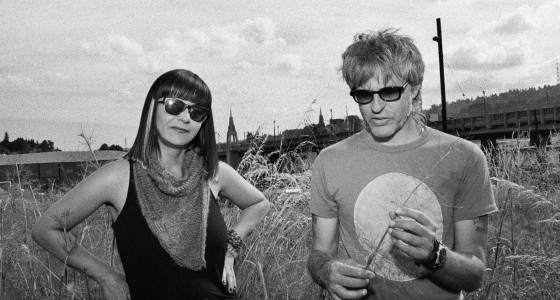 Portland duo Quasi has announced a follow up to 2010's fantastic "American Gong." The new 24 track double-LP called "Mole City" on Kill Rock Stars is currently available for pre-order in a variety of formats from standard CD and vinyl to packages that include t-shirt, zine, Quasi recording an outgoing voicemail message for you and other goodies. Also included with pre-order is a bonus CD-R "Covers" EP featuring Quasi versions of "Dont' Stop Me Now" (Queen), "Let's Get It On" (Marvin Gaye), and "What's So Funny 'Bout Peace Love & Understanding" (Elvis Costello and the Attractions). "Mole City" is set for official release on October 1.
If you are not familiar with Quasi, first of all don't think of it as "Janet Weiss' other band," because this is a whole different animal (not to mention that this year marks the bands 20th year together). Quasi rocks a little harder, with lyrical content that remains, for the most part, rather dark. Always hook-laden melodies with great instrumental work and plenty of noise and feedback.
Check out the dizzying video for the ultra-distorted and heavy track "You Can Stay but You Gotta Go" off of "Mole City." If this song is a sign of what's to come on the album then expect to find more heaviness and noise. Sounds good to me. Video posted below and also check the tour dates and catch them when they come to your town.
And if you so desire, check out their website (but it is truly terrible).
And check out "American Gong" in full below:
Web//Quasi//Bandcamp//Facebook
10/3 Slowdown, Omaha NE
10/4 Record Bar, Kansas City MO
10/5 Off Broadway, St. Louis MO
10/7 Bottletree, Birmingham AL
10/8 Drunken Unicorn, Atlanta GA
10/9 Local 506, Chapel Hill NC
10/10 Black Cat, Washington DC
10/11 Café Nine, New Haven CT
10/12 Boot & Saddle, Philadelphia PA
10/13 Knitting Factory, Brooklyn, NY
10/14 Mercury Lounge, New York NY
10/16 Great Scott, Allston MA
10/17 Tralf Music Hall, Buffalo NY
10/18 Grog Shop, Cleveland OH
10/19 Schubas Tavern, Chicago IL
10/20 7th St. Entry, Minneapolis MN
11/3 Neurolux, Boise ID
11/4 Kilby Court, Salt Lake City UT
11/5 Hi-Dive, Denver CO
11/7 Dan's Silver LeaF, Denton TX
11/10 Fun Fun Fun Fest, Auditorium Shores, Austin TX
11/11 Rhythm Room, Phoenix AZ
11/12 Casbah, San Diego CA
11/13 Echo Lounge, Los Angeles CA
11/14 SOhO, Santa Barbara, CA
11/15 Blank Club, San Jose CA
11/16 Bottom of the Hill, San Francisco CA
11/21 Biltmore Cabaret, Vancouver BC
11/22 Tractor Tavern, Seattle WA
11/23 Doug Fir, Portland OR
12/5 The Fleece, Bristol UK
12/6 Brudenell Social Club, Leeds UK
12/7 Broadcast, Glasgow UK
12/8 Deaf Institute, Manchester UK
12/9 Hare & Hounds, Birmingham UK
12/10 Colchester Arts Centre, Colchester UK
12/11 Shepherds Bush Empire, London UK
12/12 Norwich Arts Centre, Norwich UK
12/13 Cargo, London UK
12/14 The Haunt, Brighton UK