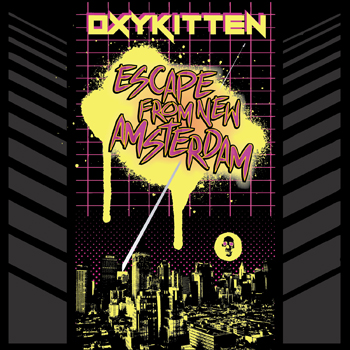 Another day, another new release from Portland's Field Hymns recordings. When they sent out the notice for their new Fall 2013 releases I couldn't resist either of them, so that's the reason for the two in a row one day after the other deal.
Pretty much the stark opposite of the Mattress tracks that you may have heard here yesterday. Where Mattress is heavy, dense and dark, Oxykitten is buzzy, bright, and full of energy and motion. Portraying a purposeful anachronistic sound with analog synths that conjure images akin to Blade Runner, depicting a futurist film-noir ambience.
The press release reads "Recommended if you like: Dr. Octagon, Add N To X, minimal synth," which of course I agree with, but I would also add to that list RJD2′s album that he did under the moniker The Insane Warrior, "We Are The Doorways." A lot of the material on "Escape from New Amsterdam" create similar sounds, or at least work with similar timbres as The Insane Warrior's album. All instrumental, buzzing saw-waves pulsating into focus and shooting from one direction to another, like some sort of 8-bit sunbeam.
Dance grooves are omnipresent, and a little hint at Boards of Canada shows up in "Beholding." I guess, in short, if you are into analog synths, dance grooves, and catchy hooks this is definitely an album worth having.
Quick close: my favorite tracks are "Dick Ray," "Springtime for the Dead," and "40oz. Nipple."
Do yourself a favor and pick this one up from Field Hymns right now. Follow the link below to check out 2 more tracks and to order the tape. And follow Field Hymns on twitter, because they are releasing a non-stop steady stream of awesome all the time, so don't miss anything.
Purchase//Facebook//Twitter//Soundcloud//