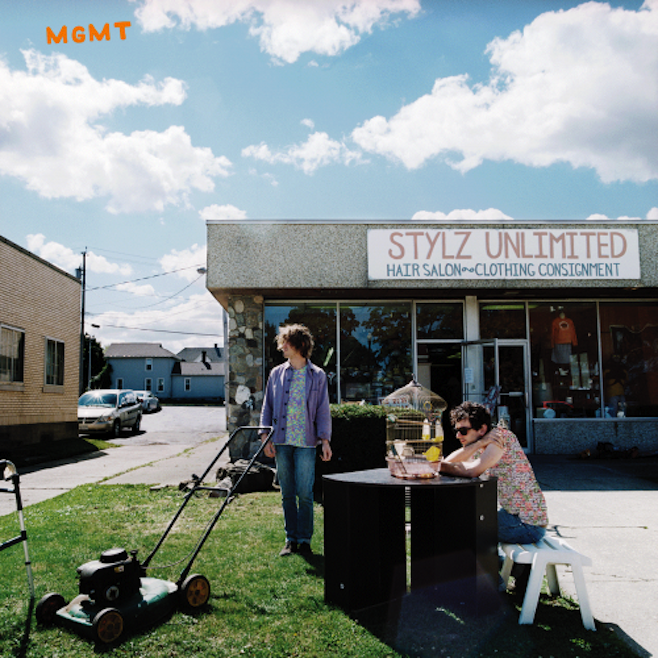 MGMT is finally releasing a follow up to 2010's superb "Congratulations." The new eponymous album is set for release on September 17 and is available for pre-order on iTunes, where it is referred to as the "optimizer deluxe edition." The pre-order comes with an instant download of the song "Your Life is a Lie," which can also be heard/seen below.
Since we don't have much of the album to play, I can relay to you how caught off guard I was when first seeing the album cover. When I went to school in Western New York (Fredonia, to be exact) I lived in the neighboring city. The album cover was taken across the street from what was my bank when I lived there. I remember riding past "Stylz Unlimited" on my bike all the time. It more often than not looked like a garage sale exploded on the front lawn. My apartment was maybe a half-mile away.
The reason that they were in that shithole of a town is that Dave Fridmann's Tarbox Road Studios is not very far away in the other direction, in neighboring Cassadaga. This is also the reason why I accidentally walked into an MGMT show in 2006 at BJ's, a bar in Fredonia. A few months later their song "Kids" become hugely successful, and because of that success MGMT opened for of Montreal when I saw them a few months later in Buffalo.
The Flaming Lips also record at Tarbox Road, which is why often times while standing in line at the Starbucks on Fredonia's campus one will find themselves standing behind Wayne Coyne. But I digress.
Pre-order the album. Check out the songs. "Your Life is a Lie" is instantly catchy, and much more upbeat than the title would suggest. And so far the album has 5-stars on iTunes, apparently based off of this song alone. So there's that. Oh, and check out the link below to Tarbox Road Studios, where Fridmann keeps a daily log of the goings on at the studio.