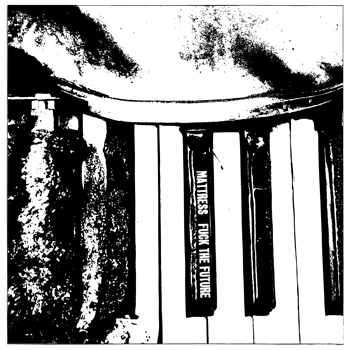 Portland's own Field Hymns Records has some new fall releases from two of the city's own.
First up is Mattress with 6 tracks of deep baritone and synths swirling around creating a dark haze. The release is bottom heavy, pulsating and drowning in a sea of menacing sounds. Rex Marshall's voice can sound like James Murphy one second ("Beautiful Moment") and then Scott Walker and Nick Cave's lovechild the next. He inhabits a world somewhere in between the two. Yes, that would be a truly strange world, like the strangest dance party in history.
The title track picks up the pace a bit, with bouncier analog synths. Marshall's voice on that track gets anthemic as he states the refrain, "fuck the future. fuck the future," with an urgency in his voice before returning to a flatter affect. Most of the other tracks are built in a similar manner to this one, where there is a basic repeated pattern that circles around the penetrative vocals. At times it can sound as though all hope is gone, while at others it's perhaps maybe open to the idea that maybe at one time there was a memory that there was a possibility that there may have been hope at one time or another, but now is currently not that time.
The soundworld in which the songs exist fall somewhere between the Cure and Joy Division. The guitar in "Arrested" points toward the former while "Pretend" is evidence of the latter.
"Fuck the Future" is music for people that have made peace with the fact that everything is coming to an end. But the album is only, maybe, that dark on the outside. There are some hints at light, like the chorus of "Pretend," that provide a contingency plan. Check out the track "Arrested" below and then head over to Field Hymns and grab the tape.

Field Hymns: Facebook//Twitter//Soundcloud//