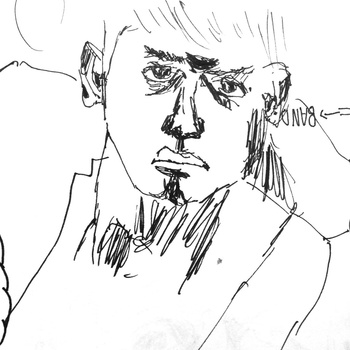 Christopher Reimer of Calgary art-noise band Women was responsible for some of the more ambient and droning elements of the band's output. Those elements were not simply limited to background atmospherics but also entire tracks like "Woodbine" from the band's first self-titled release and "Bells" from "Public Strain".
As Stereogum, Pitchfork and many other outlets are already reporting the so-called "Chad Tape", named for Women's producer and friend, fellow Calgarian musician Chad Vangaalen, is available for purchase on Bandcamp. As stated on the
blog
run by Reimer's loving sister in his memory:
Some time ago Chad VanGaalen approached Chris Reimer of Women offering to reproduce a casette tape of Chris' solo work. Chris started work on this but passed away before completing the project. His closest friends have assembled the songs he intended for the tape, laid it out with Chris's own writing and artwork and now this tape is available here for you."
All proceeds from this release will benefit the Chris Reimer Legacy Fund, an organization dedicated to providing scholarships for children in music and dance education. You can still pre-order cassettes from the
Chris Reimer Bandcamp
site, and you can also download the digital album. Release is slated for August 13th and includes artwork by Chris Reimer and tracks collected by close friends, including Chad Vangaalen.
Head to the blog to learn more about the Christopher Reimer Legacy Fund. The money raised through the fund will go towards youth scholarships in music and dance as well as towards the production of Chris Reimer's work. A truly worthwhile endeavor. I encourage you to head to the bandcamp page, have a listen, and purchase this very special cassette. If you're interested in simply sending a donation to the Legacy fund, you can download the donation PDF or head to the dedicated PayPal site.
Chris Reimer: Bandcamp | Blog |