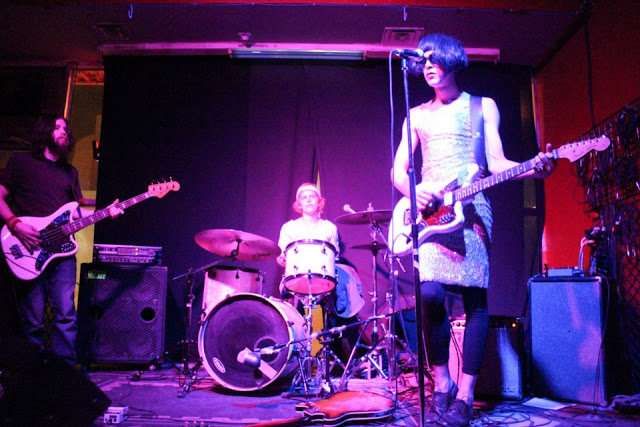 Like I said two days ago, that the next day I was going to write about the other band that was formed after the dissolution of Women, well that was before I found out that Lightning Bolt had released a new track. I'm always one for keeping things as current as possible, so I allowed myself to get a little off track.
Well since Viet Cong formed with Mike Wallace and Matt Flegel (among others, of course) we should now talk about Pat Flegel's new project, Cindy Lee.
First off this is far more experimental than anything that Women ever did, and it seems that it is going to stand as far more experimental than what Viet Cong is doing (though, to be fair, that album hasn't come out yet, but I'm just making the assumption based on the track). The album, only available as a digital download now that the cassette has sold out, reminds me at first of the first Sonic Youth album.
Album opener "Fuck Myself Stupid" features a noisy growl of a guitar that sounds as if it has been treated to some preparation of some sort a la "Lee is Free" (I can't help but allude to Sonic Youth) and that is combined with some moaning as the song continues to grow louder, building to the end. We do start to get some more or less traditional songs on the album, however. Of course I am using that as a relative term.
"Find Another Man" may have a steady beat, (shoddily tuned) rhythm guitar and some vocals, but it is similarly out there. The lead guitar wanders, twanging in the background while the bass holds down a circular steady eighth note pattern. Devolving into chaos little by little, Flegel coaxes eerie sounds from his guitar until another verse forms. The chaos that ensues upon its completion is far more violent than before, and the band seems to revel in the creation of noise and atmospherics.
A supernatural, disturbing vibe seems to emanate from these tracks. Between the cavernous echo that surrounds the instruments, combined with faint voices heard off in the distance and the sounds of someone actually tapping on the microphone (the aural equivalent of an actor suddenly taking notice of you watching him and stepping to face you), these elements combined make for a somewhat uneasy listening experience.
Understand, that I am not saying "uneasy" in a negative light. That takes some skill, to stick with such an aesthetic and to pull it off so well. The mix of control and chaos, of noise with melody, that seems to be the focus here. And I don't think that the album ever takes it too far. There isn't a point on the album where I am thinking to myself, "Ok, now this has gone on long enough." The sequencing of the tracks and the structure within the tracks themselves prevents that from happening.
Take for example the next pair of songs "Holding the Devil's Hand," with it's 60's ballad style arpeggiated guitar line and high vocal; that song is followed by "Aboriginal Sin," another burst of screams, arhythmic drums and atonal guitar work with the recording going into the red from time to time. One song is about creating melody while the next is about playing with shape and atmosphere. Each pursuing the same sound in different ways.
Standout track, for me, has to be "Assassination Reality" that is a combination of all aforementioned elements. It's a noisy, straight ahead rock track taken right from the early Sonic Youth playbook before collapsing in on itself with distorted vocals and prepared guitars. All with a fine covering of the warmth of tape recording for just the right amount of character to the sound. I don't want to not mention "Promise of Lonlieness" which is a haunting, melancholic, and tuneful while atonal album closer that is rather beautiful.
The recording is available on Cindy Lee's Bandcamp page for only $2 Canadian. And of course, as with all Bandcamp pages, you can preview all of these tracks. Oh look there's the player right there at the top of the page. Maybe you've been listening as you read along.
They have a few shows opening for Deerhunter at the end of this month in BC, which makes total sense. So check that out if you can. Also check out this lengthy interview that will give you a lot more insight into the actual band and the story behind the meaning of some of the song. It's pretty interesting.
Friday, August 30 @ The Rickshaw Theatre (Vancouver, BC)
Saturday, August 31 @ Sugar (Victoria, BC)