Grand Lake are following up last years exacting, skilled and expansive album "Blood Sea Dream" with an EP that plays their hand a little closer to their chest. "Leaves Ellipse" features intimate, homespun, heartfelt melodies brought to life with the stripped down sound of acoustic guitar with clear arrangements. There is less of a focus on lead lines and the layered material that drove most of "Blood Sea Dream".
The tunes are just as catchy but the band seems to present them in a way that is far less earnest and instead tug at the heartstrings. That the EP was recorded in small rooms in the houses of friends helps to this end. The clear and intimate, friendly tone resonates throughout. We already know how amazingly talented this band is, and now they are letting the emotions shine through in a way that was previously somewhat shrouded. It's good to hear them have the bravery to strip away the layers and put a delicate, yet polished, side up for display.
Not that "Blood Sea Dream" was an overly electrified album, featuring shrieks of distorted electric guitars. Nor is that album completely opposite of the warmth of this EP. That album certainly has its moments of detached emotion from afar and some tunes have acoustic foundations, but the layers are piled on making the insides hard to see or feel. That's essentially the difference with the "Leaves Ellipse" EP.
String arrangements on "City Leaves", and throughout, sound cleaner and fit better than any of the strings on their previous effort. The ambiance is matched and they sound more a part of the ensemble instead of an addition or extra layer or afterthought. That being said the recording itself even sounds like it is coming from a closer place than the echoed expanses that "Blood Sea Dream" permeated. What struck me upon my first couple of listens was the way that the guitar tone and style characteristics present on the first album are carried over. Style is something that a band can't really run away from. More often than not it will take at least a few releases before a style emerges. Not so with Grand Lake. This is amazing for the fact that "Leaves Ellipse" expends so much effort stripping things away. They have managed to clear away everything down to their essence. A daring move.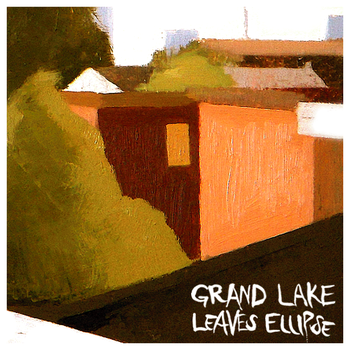 "Leaves Ellipse" is not only mostly acoustic but there is only a very small amount of lead fills that even occur across the EPs 20 minutes, the most notable of which are featured in the closing track "Which Days Were Those Days". That song, by the way, is a moving song that speaks of fondness for the past, remembrance and longing. It's a song that comes to grips with the fact that change is eternal. Second track, "Christmas, California" is the most upbeat track and is full of catchy hooks. There are subtle rhythmic and metric changes in a clear, simply stated presentation. There is nothing extra and the song doesn't go on for a second longer than it has to.
Following "Christmas, California" is the standout track "City Leaves". Its walking bass and delicate backdrop of strings are the perfect accompaniment to the moving lyrics that repeat "waiting and waiting and waiting for sometime to happen." To me these lyrics speak of if-onlys and what-ifs. What would happen if we just got up and followed our dreams instead of sitting around and waiting for things to happen to us? What would become of us? Is our passion matched by the people that love us, and if not, how does that play into our own plans for life? The longing is portrayed by droning strings throughout the verse that lurch into a broken rhythm in the chorus that seems to represent the desire to get up and move, to make things happen that only return to that drone in the verse. Strings play an important role in "Silver Leaves" as well, which also includes some interesting metric shifts in the chorus.
"Leaves Ellipse" was recorded in "takes", rather than relying heavily upon punching-in and overdubs. Not that there aren't overdubs, but each track was done in a single take, rather than editing, combining and splicing to create an aura of perfection and spotlessness. What is gained, I feel, is far more significant than can be achieved through all of the technological wizardry and that is the intimacy of a well rehearsed ensemble. Grand Lake has sidestepped technologically gained perfection in favor of cohesion of sound.
Buy the EP from Amazon and iTunes
EP closer "Which Days Were Those Days" here.
And their cover of Radiohead's "The Tourist" on The Hype Machine.
And watch the video for that track on Vimeo down below:
Grand Lake – Which Days Were Those Days? from Ryan Terzian on Vimeo.