(Originally appeared on Tympanogram here)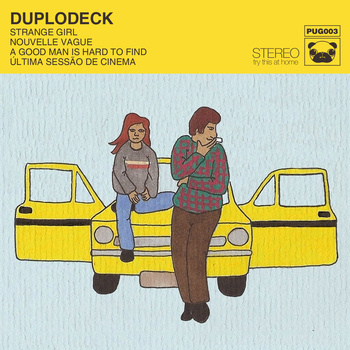 It's not too often that we get indie music out of Brazil. Well, not just indie, but music in general. Except for the Tropicalia movement and, more recently, CSS, it's difficult to pin down a Brazilian sound.
Duplodeck charts some fun, garage-pop territory with a bit of Stereolab lounge mixed in for good measure. Their 5-track EP, which has remained unreleased until recently, is quite varied in sound. The fun garage-pop of "Strange Girl," with its loud and nearly out of control guitars flailing all over the place, would fit perfectly amongst the songs of 90's rock revival band Yuck. Contrasting this sharply is "Nouvell Vague," which anyone would immediately confuse with Stereolab. The soaring female lead vocal combined with vibes, and vintage keyboards and that lounge-y relaxed tempo and groove captures the essence of seemingly hundreds of Stereolab songs in a little more than 4 minutes.
It seems that the band is alternating between jangly garage pop and finely crafted retro lounge music with the corners finely rounded. This seems to be the case upon hearing "A Good Man is Hard to Find," which moves straight back into a slightly noisier, rougher realm. A Spanish sound is conjured courtesy of the phrygian mode used in the opening guitar chords, which makes it sound as if a bullfight is about to break out. It doesn't take too long for the loud guitars to break in and take the song full on into Kinks territory. I believe that the fourth track – "Última Sessão de Cinema" – is really the best track on the EP. This track also does the best at melding the two main styles present throughout with a bit of noise brought to the relaxed lounge sound of the female vocal. The final track, "I'm Sure," was recorded live giving us an even better glimpse into what this band is truly all about. The loud jangle shines through from what sounds like what was a raucous set.
One can tell with this EP that the group has written many songs together. There isn't really any formula in place. Instead there is a whole lot of ideas contained within a few different approaches to sound. It's a fun EP that is worth a listen, and hopefully we will start to hear some new music from this group soon.
(Editor's Note: You can grab the whole EP for free over at the band's Bandcamp page, where you can also order the EP on cassette through Pug Records.)
Duplodeck on Bandcamp
[audio:http://quartertonality.com/wp-content/uploads/2011/06/duplodeck-duplodeck-EP-04-Última-Sessão-de-Cinema.mp3|titles=Duplodeck – "Última Sessão de Cinema"]