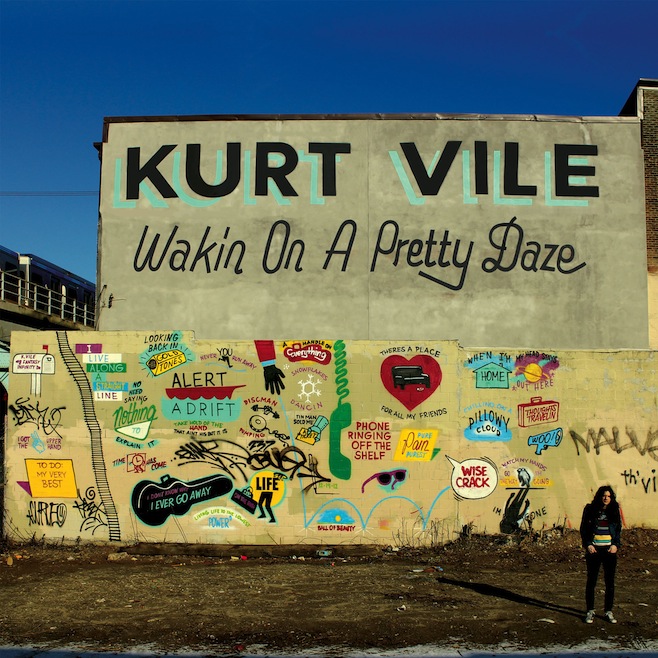 I feel like the more that I look into the albums that were released this year the more I am surprised by the things that I haven't devoted quite enough attention to. I've honestly been listening to as much new stuff as I can, but it's times like these that make it readily apparent that I have some serious issues with favoritism, especially in a year that saw the release of a new of Montreal album.
Kurt Vile has always seemed like an interesting contradiction to me. I specifically remember seeing him in Chicago a few years back and loving his super noisy, electric guitar driven music. Or maybe I am treating myself to some revisionist history and that isn't what happened at all, because none of the music that I have heard from him since have been noisy in the way that I remember it being some years ago.
(Also, he pushed me out of the way while trying to get back to the bar at the Subterranean between sets by Zola Jesus and Real Estate, but that is neither here nor there. I just like telling that story.)
Walking on a Pretty Daze is fully of gently lolling melodies, sung and played with a carefree air. The only thing that I am left thinking whenever I listen to the album is that this is what Thurston Moore wants his solo work to sound like, but instead all that we get from him is recycled, boring adult contemporary or something. I don't even know what the hell he's doing, and that doesn't even matter right now.
It's like everything on "Walking on a Pretty Daze" sits between classic rock like Bad Company or something and singer/songwriter fare. The backbeat is kept simple and low-key, just unobtrusively tapping out time in the background while Vile's guitar is pushed right to the front, next to his half-snarled singing. If you are at all familiar with the music of Joel Plaskett, that would provide a nice point of comparison. Both artists wear their influences on their sleeves, though Plaskett tends much more toward the obvious in this regard.
Vile's open string suspended chords and extended harmonies give him a sound that is immediately identifiable as his own. The riff from "Was All Talk" manages to capture the essence of Don Henley's "The Boys of Summer" in a single chord. When you hear it you'll know what I'm talking about. And I think that, again with the points of reference, will give us all (those of you that don't know the music of Plaskett) something a little more universal to compare it to. That aura and atmosphere that is bottle on the Henley track is the basis for most of these songs, and the overall mood of the album.
It's that moving though cautious and tentative mood. Even the synths that Vile uses attempt to capture the mood of "The Boys of Summer." I remember that song being on the radio non-stop when I was younger, and all the same images that it conjured in my head back then are being brought back while listening to Kurt Vile.
Aside from that long aside, Vile's music is well written and interesting. He creates a solid album and has fun with it. I mean he'd have to be having fun with song titles like "Air Bud," and lyrics such as "makin' music is easy….watch me!" Naturally that quote is delivered in a sly deadpan, where one could picture him trying to make you interested, but at the very same time not getting too invested in it. The music just flows out of him, and as I said earlier, it just seems so effortless. Effortless in the way that a Stephen Malkmus and the Jicks album sounds effortless.
Overall, give this one a listen before the end of the year, I'd file it just to the right of any chillwave music that you may have. All around good album, front to back. Deserving of attention well past 2013, and that's really the point of lists like these, isn't it? Who will survive and who (or what album) will fade into obscurity forever? Kurt Vile has many more albums in him, I'm sure.