Los Angeles' Wonder Wheel is back with their trademarked brand of pulsating rock music that stands somewhere between a dream-like haze, drugged out reality and a hallucination. The music shimmers with retro keyboard sounds amongst the swirl of delayed guitars and vocals.
On this latest release the vocals are not quite as buried in the mix, or as washed out in delay as previously heard on Paul A Rosales' album "Wonder Wheel I", which was released as a solo album, but in actuality a collection of previous work by Wonder Wheel. All in all this album shows a band that is in a constant state of evolution, with this album showing them at their best yet. There is some truly catchy material here in the choruses. The songwriting has become much more direct, and the songs themselves are structured in a more traditional manner. This familiarity helps make their unique sound a bit more accessible than before.
There is an honesty in Rosales' vocal delivery. Sometimes it is double tracked, harmonizing with himself, sometimes his voice stands out in the open, solitary. It is more confident and pitch perfect here with the feeling of the lyrics coming across loud and clear. The album speaks mostly of a longing to not feel so alone. The sound captures the sadness and confusion of being in an unfamiliar place with nobody around to share your feelings. Truly something that each of us can relate to. There is a real connection to human emotion with these songs. The songs speak about that human connection that we all want to have. It is frightening to be out in the world alone, it's like wandering through a fog in an unfamiliar city. Just hearing a song like "A Million Miles Away" with the lyric, "I'm alone, I'm sick and I'm alone" and later, "I need you, I want you" one can immediately grab onto that feeling of desperation in trying to make a connection. This feeling is unmistakably clear throughout.
The band captures a sound that I can only think to describe as "caught in between". We hear something between a dream and reality with aspects of minimalist repetition with dreamy waves of sound from the delayed effects swirling around reminiscent of shoegaze. But, the familiarity also comes from a sound similar to the much lauded "chillwave" sound that seems to have popped up out of nowhere this past summer through bands like Neon Indian and Nite Jewel. Wonder Wheel does share a similarity in sound to these bands through their analog, DIY recording techniques and the heavily effected instruments and production.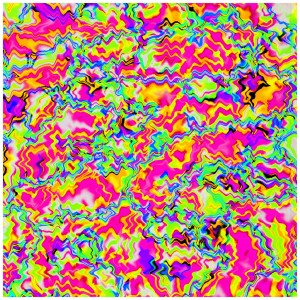 Even with these comparisons to other artists and classifying them into this genre Wonder Wheel has a very unique sound that is all their own and therefore very recognizable. The album begins with a very short synth crescendo before the throbbing pulsations of the full band kicks in. I detect a pronounced influence of The Cure on songs like "After Dark", especially when the lead guitar line enters. "Wednesday" bounces jubilantly with its Bo Diddley groove, sounding like early Interpol in it's brooding mood.
"IMHO" is an uptempo gem that is quite catchy and would really work well as a single with a spacious verse and rapid fire lyrics in the chorus. The rhythm change up at the end finds the band sliding into a half-time feel much like in the track "I Know (It's All Good)". These rhythmic shifts really add a new dimension of intensity to the songs by seemingly taking all of the energy of the song to that point and suddenly putting the brakes on. All of the forward motion generated by the song up to that point is being held back, just trying to break through the surface.
Wonder Wheel has something that few bands possess, and that is consistent and prolific output. They are constantly creating new material. This release is their 36th self-recorded album since June of 2003. Instead of working one EP or album into the ground until the songs get old and tired, they are continuing to work, writing songs, releasing material and touring. This album was recorded between May 4 and July 27, 2010 and is available for purchase on cassette right now over at Sixteen Tambourines.
Definitely worth a listen. Their unique sound, catchy hooks and emotional lyrics combined with an evolved sound, tighter songwriting and contagious energy is sure to make a connection.
Check out Wonder Wheel around the interweb:
http://mywonderwheel.blogspot.com/
http://www.myspace.com/thenogoego
And check out these tracks from "Brave New World"
Below is the video for "After Dark"
WONDER WHEEL – After Dark from Moduli TV on Vimeo.