For the past few years the retro-60's sound has been featured very prominently in several albums that have made a lot of music fans stand up and take notice. Take for example Best Coast, Caribou, Deerhunter, MGMT and the list goes on. Well, all of that can stop now because White Fence has given us the peak of perfection when it comes to that retro sound.
Specifically stated White Fence's album, "Is Growing Faith" is, at first glance, freak folk. The freakiest of freak folk. I would even dare to say that at some points this album borders upon sounding like outsider music a la Jandek, or Daniel Johnston in its strange, almost uninviting sound. The fact that their sound is reminiscent of Buffalo Springfield, early Dylan and The Left Banke while at the same time sounding as if it was all recorded on the shoddiest of equipment in a bedroom somewhere truly places this album in a category of its own. To say that it didn't initially kind of frighten me would be a lie. There are, however, really catchy tracks on this album and its like no other album I have heard, or at least it doesn't sound like anything I've heard done recently.
The lo-fi to the extreme approach in some of the songs is, admittedly, something that needs to be listened-through at first. There is a bit of a learning curve, or "accessibility curve" to this album. Like I said, it's not outwardly inviting, but if you stick with it and really surrender to the world in which the music exists then there really are some hidden gems to be found. "A Pearl is not a Diamond" has an early psychedelic folk-rock feel to it with ethereal vocals and overdriven guitar that pans wildly from one side to the other while "Tumble, Lies and Honesty" strips everything back to just acoustic guitar, an early sounding vintage synth with its monotone buzz vibrating in the background throughout and tongue clucks used for percussion. Some of the songs sound as if at any minute they are going to fall apart completely, for example "Lillian (Won't You Play Drums?)" with its off kilter drum machine and synth from the song it follows sounding off an atonal line that is buried beneath everything.
Imagine The Beatles discovering LSD while they were working on their first albums. What would "Love Me Do" sound like if John was taking acid? I suppose one could say that is what early Pink Floyd sort of sounded like with Syd Barrett at the helm. There is a taste of the west-coast surf rock vibe added to the mix via a good amount of the requisite reverb on everything, adding yet another dimension to the music. The guitars are rarely distorted, instead a clean and twangy tone is used throughout. The singing style of Tim Presley, the mastermind behind White Fence, even sounds like something from British Invasion era rock and roll.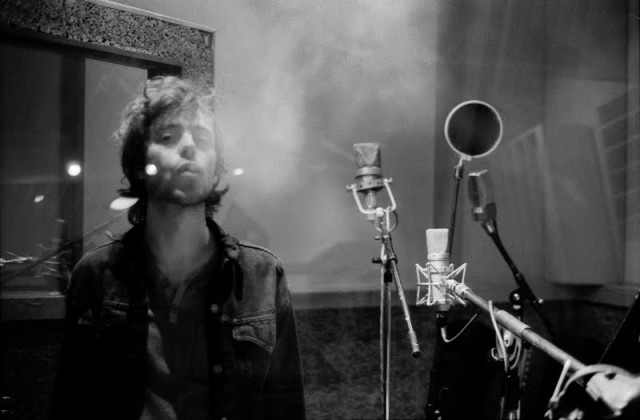 The DIY element seems evident at the beginning and ending of nearly every song where snippets of other songs appear and are abruptly cut off. The tape stretches and warbles throughout, throwing the tempo askew and generally having a disorienting effect. The tempo shifts from the varying tape speed are not the only disorienting part of the album. It is quite an interesting experience listening to this work because my mind is telling me the whole time that there is now way that this was not created in the 60's. I start to make up reasons as to why it is only being released now: Perhaps this is some lost or forgotten tape. But then a song like "Body Cold", that is a little harder driving, begins and I'm torn by its farfeesa organ sound combined with a sinewy hard rock guitar. Then there are other moments like in the song "When There is No Crowd" when the lyrics speak of "[the] Summer of 2000, six years past the date and I wondered if I would come back…" which takes me completely out of focus for a few seconds each time I hear it. Up until that point in the album I find that I am completely immersed to the point where I have actually convinced myself that I am listening to an album from the 60's. There is also "The Mexican Twins" which sounds to me to be directly influenced by The Mothers of Invention's 1968 album "We're Only in it for the Money".
"Your Last Friend Alive" runs directly into "Enthusiasm", the latter song actually starting before the prior song finishes. The tape then fades out and back in again as if it was a last minute decision to leave the song in, or as if it is Presley improvising on the chord progression and later coming up with a use for it. Things like this give the album the feeling of it being produced as a home tape, distributed to friends. The track "Enthusiasm" really captures that surf-rock sound, though with a lot of background noise added to the mix and wild, erratic drumming while the country swagger of "Stranger Things Have Happened (To You)" is one of the most immediately inviting songs, complete with a catchy hook and bridge.
White Fence has outdone everyone with their retro stylings. Though, like Zappa, there may be "no commercial potential" for this album it is most certainly a statement being made about returning to core songwriting elements. The songs fit together like a run on sentence, or more like a stream of consciousness. The lo-fi, DIY sound, though initially offputting, actually grows to make the album to feel more like an intimate, homemade and tape-traded affair. If you spend some time with this album you will be rewarded.
[audio:http://quartertonality.com/wp-content/uploads/2011/01/16-You-Cant-Put-Your-Arms-Around-a-Memory.mp3|titles=You Can't Put Your Arms Around a Memory] [audio:http://quartertonality.com/wp-content/uploads/2011/01/06-A-Pearl-Is-Not-a-Diamond.mp3|titles=A Pearl Is Not a Diamond]