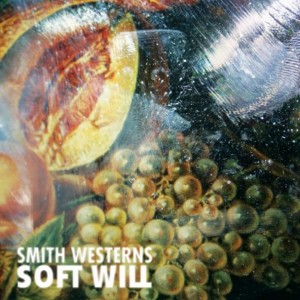 Smith Westerns have traveled an interesting course across their 3 album output. Their first release was noisy, awash in reverb and tape noise. The songs themselves were rough around the edges, energetic and brash. That's a great place to start. After the follow up, "Dye It Blonde," it became apparent that the band was not happy with letting things stagnate, or letting their sound grow tired.
And it definitely isn't as if they scrapped everything and started over. The sound of "Soft Will" was buried under all of the noisy elements of their debut. This most recent release is calmer, more confident, moving away from the glam- and punk- influences and trading those for the sounds of something somewhere in between dream-pop and chill-wave. I know, I know, I hate those labels too. To be more specific, comparing them to other bands one would have to place Smith Westerns in the company of Real Estate, or MGMT at their loftiest.
Or maybe they are letting some other influences shine through. There seems to be a clear Pink Floyd influence on the song "XXIII," that piano line sounds very similar to Dark Side of the Moon era Floyd, specifically "The Great Gig in the Sky." The classic rock vibe doesn't end there either. The guitar line (and the tone for that matter) in "Best Friend" is taken right out of that era, think Badfinger.
The laid back vibe of Pink Floyd, or Real Estate permeates the entirety of "Soft Will." Even when tracks like "Only Natural" pick up the pace a little bit beyond mid-tempo, it still manages to emit the chilled out aura that matches Cullen Omori's vocals. His near falsetto doesn't quite hide behind the instruments, but his breathy delivery certainly exudes the kind of shyness that isn't really shyness at all, but more like someone that is more mercurial, reflective and lost in thought.
"Cheer Up" is maybe the song on "Soft Will" that is least like any of the others on the album. The minor turn that the song takes when Omori sings the lyric "cheer up" presents an interesting juxtaposition that is only righted in the bridge of the song, an exciting and lofty section that carries through to the end of the song. My one critique would be that they need to write more songs like "Cheer Up," and "Only Natural." I think that the band is at their best when they move away from their comfort zone. As their sound is solidifying along these lines I think that they need to learn to rely less on melodic lines, changes and chord progressions that they have already explored. This album could be a step away from something truly great.
Smith Westerns know how to write a single, that is for sure. Any of the songs that appear on "Soft Will" could easily find a large audience. They're are all catchy, very well written and interesting. Hopefully the band will continue to release albums on a regular basis. As it is now we are getting a new Smith Westerns album every 2 years, and not a bad song on any of them.
The band is currently on tour through the end of November, where they will conclude with a show in their hometown of Chicago.
Oct 11 Austin City Limits Music Festival – Austin, TX
Oct 12 Emo's – Austin, TX Tickets RSVP
Oct 26 Life Is Beautiful Festival – Las Vegas, NV
Nov 11 Webster Hall – New York, NY
Nov 13 Paradise Rock Club – Boston, MA
Nov 14 Wescott Theatre – Syracuse, NY
Nov 15 First Unitarian Church – Philadelphia, PA
Nov 18 9:30 Club – Washington, DC
Nov 20 Magic Stick – Detroit, MI
Nov 21 The A&R Music Bar – Columbus, OH
Nov 22 High Noon Saloon – Madison, WI
Nov 23 Vic Theatre – Chicago, IL
"Soft Will" is currently available in the iTunes store, or on vinyl (comes with a CD).