For those of you out there that feel like White Fence's release "Is Growing Faith" was a little too "mainstream" and accessible, you'll be happy to know that Psychedelic Horseshit's latest release, "Laced" is neither of those things.
Psychedelic Horseshit is a DIY recording project that has created an album so loose and gritty sounding that it is barely held together to the end. The vocal delivery is drawled in a lazy monotone with barely an attempt at creating a melody. In place of the vocal melody there are off kilter rhythmic accents that carry the listener from line to line. After repeated listens, which is highly suggested, one will begin to pick out the more lucid, memorable bits and songs that really seem to "click" in a way.
The album opens up with sounds emerging from a trippy haze, like the sound effects that an educational video might use to characterize an acid trip while warning against it. It seems to be welcoming us to the trip as it were. The album captures the raw idea of the songs presented, and seems to celebrate the idea of spontaneity and instant composition.
"French Coutryside" is full of ideas that are layered one on top of the other while "I Hate the Beach" and "Revolution Wavers" features extended synth breaks that close out the tracks. Now that the listener has been invited to go on this trip with the band they need to allow themselves to be taken away in the trance that is created by layer upon layer of scratchy synth lines and loose drumming.
The title track seems to be the best attempt at a "catchy pop tune", though I use that term in the loosest possible sense. The electronic sounds hold the song together despite the ancillary drum machine beat. Everything else sways in and out of the beat. "Automatic Writing" is the thinnest and simplest track on "Laced". It borders upon straight up ambient music with lush synth tones casting down simple, long waves of sound that are occasionally permeated with an ultra-high pitched sound that could have been right out of a 1980's sci-fi flick.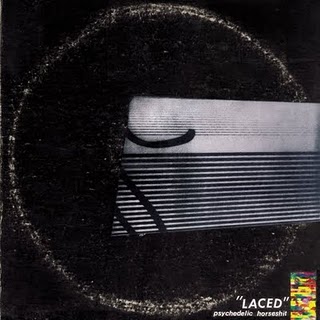 Bongo rhythms permeate nearly every track, adding an extra layer of stoned college bro drum-circle atmosphere to the tracks. Out of tune guitar accompanies several tracks, furthering the feeling of an impromptu jam session that becomes the common thread tying all of the songs together.
Tracks like "Laced" and "Another Side" are among the more accessible on the album, the latter of which does its best Bob Dylan with a wild harmonica interlude and simple 2 chord structure. "Making Out" is the most emotionally moving of the tracks thanks to an ascending vocal line that challenges the singer's range. Spastic bongo work accompanies the track for the duration.
The vocal delivery, and really the entire ethos that seems to be behind this album can be explained by comparing it to early Beck. Remember when Beck was a "Loser", back in his freak folk, California stoner/surfer/beach bum slacker days? The delivery here is very similar to that. It's sort of off the cuff, without a care, but the singer's actual voice is more comparable to Conor Oberst or Patrick Stickles.
Psychedelic Horseshit's "Laced" captures that moment of spontaneity in an improv session where a band is just getting together to bounce ideas off of each other. Those improvisatory, experimental tunes are balanced against worked out songs like the title track. One gets the idea after listening that Psychedelic Horseshit isn't too concerned with being commercially successful. They seem to be more focused on producing lo-fi, home recorded jams that capture the realm that lies somewhere between improv, forethought and total collapse.
The album is out now worldwide. You can purchase your copy HERE.
[audio:http://quartertonality.com/wp-content/uploads/2011/05/07-Another-Side.mp3|titles=Psychedeclic Horseshit – Another Side]