Pepper Rabbit, with their most recent release, "Beauregard", have produced a stripped down, folky version of ethereal dreampop with a bit of honky-tonk barstool blues added to the mix. The music has a familiar sound that is quite inviting, like music that friends would make some evening while sitting in front of a fire. The traditional "rock band" sound has been expanded to include clarinet, trumpet, ukulele, and mandolin, all of which assist in providing the songs with the aforementioned "folk" sound. The creative instrumentation doesn't seem to bog down the process though. Each instrument is given proper consideration and space and most importantly never seem to not be exactly what the song calls for. Pepper Rabbit seem to be going against the "army of people on stage" ethos of Broken Social Scene and the like. Less is more in terms of orchestration. Finding just the right sound is much more preferred to figuring out parts for everything all the time. I think that the best way to get across an accurate description of Pepper Rabbit's sound would be to compare them to a less guitar driven, less crowded sounding Arcade Fire. Pepper Rabbit can be quiet and introspective in much the same manner as Grizzly Bear, and they hit all the right emotional spots.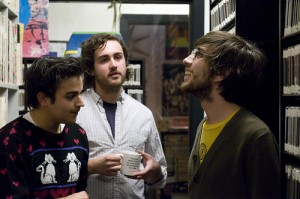 The songs are hopeful, catchy, sentimental, reminiscent and perhaps a bit remote and sorrowful, yet Pepper Rabbit singer and multi-instrumentalist Xander Singh, bassist Shay Spence, and drummer Luc Laurent are able to turn that sorrow into a celebratory remembrance of the past. Their sound is at once haunting and beautiful, to sum it up as succinctly as possible. Feelings are described perfectly with honest lyrics that are set effectively. Take for example the lyric, "That's when you find there's nothing there. Drink when you see that no one cares. You said I'll see you soon, and back there's the Harvest Moon" from "Harvest Moon". The trumpet in that track echoes with a little help from the pulsation of a distant organ while the rhythm chugs along through a sea of voices.
With "In the Spirit of Beauregard" the normal pop-tune structure, which the band doesn't deviate too far from through most of the album, is challenged. The songs goes through several changes with honky-tonk piano, followed by jovial klezmer band clarinets, followed by an upbeat quickstep and back again to the ethereal dreampop in an extended outro. These changes would probably never even occur to most bands, but Pepper Rabbit makes sense of it all in the spirit of pop experimentation.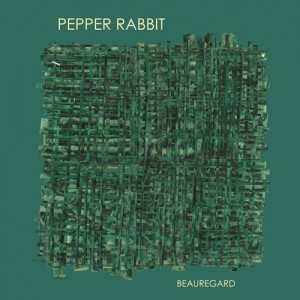 The warmth of the songs, with layers of instruments with a recognized and welcomed style of thoughtful, introspective lyricism truly helps the music to achieve maximum accessibility. The band seems to also have a unique willingness to stand nearly unadorned and sing touching songs that have the ability to grab the listener's attention based on the lyric's emotional content alone. Alternately they can make really big statements with lush orchestrations of those same simple ideas. Take the song "Older Brother", one of the more stripped down tracks consisting mostly of simple ukulele and voice. Incidentally I feel that "Older Brother" stands out as the song that could be the biggest "hit" with a rather upbeat and catchy chorus. They even tread pretty closely to pure ambience on "Song for a Pump Organ" with drones of sound, waves of voices and a glockenspiel ringing clearly through the cloud of sound. Anything to help bring a song to life. Nothing seems to be off limits here.
This is certainly one of the more carefully crafted albums to be released recently. It's great to hear an album where songwriting stands front and center resulting in a moving album with subtlety and style.
Listen: Pepper Rabbit – "Harvest Moon"
[audio:http://quartertonality.com/wp-content/uploads/2010/11/02-Harvest-Moon.mp3|titles=Harvest Moon]