(Originally appeared on Tympanogram.com on January 16, 2012)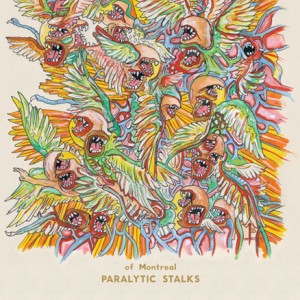 Kevin Barnes has always been one to experiment. From album to album significant changes in of Montreal's sound and approach are apparent, which is what makes of Montreal one of the most exciting bands creating music today. They are an incredibly prolific act, putting out albums and EPs regularly, rarely skipping a year.
One can hear significant departures in sound between 2006's Hissing Fauna, Are You the Destroyer? and 2008's Skeletal Lamping. The next album False Priest, from 2010, saw Barnes backing off a bit on excessive experimentation and instead hunkering down with producer Jon Brion to make a psychedelic pop-funk album that captured the bands freakier side but also brought out their fondness for catchy, radio friendly hooks.
Lyrically the albums have run the gamut from the fanciful fictional tales of the band's earlier output to the much more introspective lyrics found on more recent work, most notably beginning with Hissing Fauna…
Referring to that album as the crux of the latter part of output goes far beyond the fact that it remains their most popular work, and the work that brought of Montreal to the attention of many of their current fans. That is well deserved praise for a phenomenal album that found its rightful place on many year-end lists after its release. Digging deeper into that album, however, one will find the cell of an idea, the beginning of a rift: musically, lyrically, personally.
It was on Hissing Fauna… that Barnes brought to life the character of Georgie Fruit, who is in many ways a latter day Ziggy Stardust. Georgie Fruit is most likely Barnes' way of exploring his inner psychological torment and sexual curiosities. Georgie is a man that has been through multiple sex changes, and the lyrics of many of the songs that are presented via his perspective are rather lurid. Of Georgie, Kevin states "He's been a man and a woman, and then back to a man. He's been to prison a couple of times. In the 1970s he was in a band called Arousal, a funk rock band sort of like the Ohio Players." Looking at the way this character comes to life shows the birth of this idea, and the first instance of the actual depiction of physical, or psychological divisions in the music of of Montreal.
Hissing Fauna…was an album of two musical characters that eventually pulls itself apart, as literally as is sonically possible. It happens during the track "The Past is a Grotesque Animal" – a nearly twelve-minute long rumination on a circular chord progression that manages to build tension through incessant repetition. The song has no true verse or chorus, and varying phrase lengths offset the importance of certain harmonies over others. When the listener comes out on the other end of that track they are greeted with songs of a completely contrasting ethos. That's the genesis of Georgie Fruit, coming out on the other side of a song that is the representation of a complete breakdown. This is where the journey that leads us to Parlaytic Stalks really begins. In understanding where this music is coming from it needs to be placed in this perspective.
If Hissing Fauna… is an album that is divided in two halves, Skeletal Lamping is an album of fractured songs that toss and turn into other songs in the middle, sometimes returning, most times not. It's the representation of Barnes trying to hold things together. The inner demons are starting to surface and it's becoming increasingly difficult (for us as listeners) to parse out where reality ends and the character begins. Skeletal Lamping was an album that had great parts of songs, and Barnes' genius lies in stringing them all together. The divisions of these songs-within-songs were sometimes more jarring than others. The rift between Barnes himself and Georgie Fruit was beginning to show itself throughout the songs rather than in between them, and the alter ego Barnes had created for himself was being used to hide from reality.
Then False Priest comes along. It's a pop-funk album. There is no longer a division; this is 100% Georgie Fruit. Just as Barnes said, Georgie used to be in a funk band. False Priest was that funk band. It was pure theater. We were no longer listening to of Montreal: we were listening to a band within a band, a character within the man.
This becomes quite obvious when one stops to consider that the titles for False Priest and Skeletal Lamping, as well as EP thecontrollersphere, are taken directly from a lyric from "Faberge Falls for Shuggie" – a song that comes after "The Past is a Grotesque Animal," after that first rift. thecontrollersphere, I remarked when it came out, contains bits that sound as if Kevin is physically tearing himself apart, and "Flunkt Sass vs. The Root Plume" takes its sonic cues directly from Bowie's Ziggy Stardust. One of the more startling elements of this track is that, for the first time in the latter part of of Montreal's catalog, Barnes is singing single tracked with little in the way of effects on his voice. He sounds as if he's screaming for his life while re-entering the atmosphere without a suit. It's his primal scream, something that can be heard throughout the entirety of Paralytic Stalks. The skillfully double tracked vocals that were omnipresent on earlier of Montreal recordings are now utilized sparingly, and only for special effect. More noticeable are the moments when Barnes screams out until his voice starts to break, providing this batch of songs with an emotional forthrightness and unabashed honesty. The lyrics are not simply more personal, but the songs find him connecting these ideas with the listener with no filter.
That trend of clarity and directness continues on this album, that, in typical of Montreal fashion, is obscurely named. There is no more hiding behind the irony of song structures that contradict the lyrical content, like the dance-y, upbeat "Heimdalsgate Like a Promethean Curse" from Hissing Fauna…: a song about a crippling depression and Barnes' pleading with his own body and medications to not fail him. He sings "I'm in a crisis, I need help, come on mood shift, shift back to good again, come on be a friend. Come on, chemicals!", underpinned all the while by some of the most cheerful music on that album. Musically, it's saccharine sweet, rich with synth hooks and a quick tempo.
That type of contextual dissonance is no longer present on Paralytic Stalks. Not only are the lyrics in the first person, but so is the music. The lyrics here are represented in direct correlation with the music, and the music is recorded in such a way that it puts the minimum amount of distance between the song and the listener.
The piano sound in "Authentic Pyrrhic Remission," as an example, is recorded such that we can hear the room. The listener is placed directly in the presence of Barnes as he speaks to us, giving an unprecedented amount of weight to his words. Every punch connects. By this point Barnes has managed to completely strip away any sense of pretense, and has come out from behind his curtain, which stands in opposition to the heavily effected synth tones that have been occupying many of of Montreal's previous recordings. Instead of using the recording process as a smokescreen where everything is manipulated, synthesized and recorded directly to the board, much of this album manages instead to connect directly with the listener. Barnes obviously learned quite a bit by working with Jon Brion. The sound of timpani at the opening of "Dour Percentage" is taken directly from the False Priest sessions.
Many of the lyrics on Paralytic Stalks are more relatable than usual. The opening of "Spiteful Intervention" jumps in with raw emotion and trepidation with the line "It's fucking sad that we need a tragedy to gain a fresh perspective on our lives." It truly feels like Barnes is including us as listeners. He is no longer speaking from a distance about himself or another party that we are not privy to as listeners. We have been brought into the fold and welcomed.
That personal forthrightness goes even further later in the song when he states "I spent my waking hours haunting my own life / I made the one I love start crying tonight and it felt good / still there must be a more elegant solution." Though the opening of the lyric is honestly and painfully sung in a loud, trembling yell with a tenuous grasp on pitch, there is still that sense of reaching out to do more. Barnes is realizing the consequences of his actions and his feelings. The lyric doesn't point to his being a self-obsessed animal, but the complete thought points to his willingness to change: the theme and process behind the past few releases.
Barnes, in recent interviews about what to expect from his latest album had this to say: "I don't want to become a caricature of Georgie Fruit…I want to keep growing as an artist." (source) This statement signals Barnes' intentions to change everything in his musical process from the ground up. His art is a reflection of his life. Personal problems are being faced head on; Barnes is not shielding himself. There are attempts to change things, attempts to brighten up the band's sound and turn the darkness in on itself. Paralytic Stalks is the sound of facing the things that made him turn inward.
The pedal steel has an uncanny ability to sound like a sunrise, and when it is used in "Wintered Debts," it has exactly that effect. Its use, combined with the shift in piano style throughout the album, is more playfully reminiscent of Tin Pan Alley song pluggers of the early 20th century. "Malefic Dowery" is made gentler with the addition of that piano, and a delicate arrangement of woodwinds.
That characteristic of change has always existed on of Montreal records. It's an unwillingness to settle for a certain sound, or a certain instrumental configuration to define them. Paralytic Stalks features woodwinds, strings, and some auxiliary percussion, in addition to the tradition rock band set up. of Montreal has always augmented that sound with two basses, with great effect, as is the case of the intricate bass-lines in "Authentic Pyrrhic Remission." Those bass-lines can now be seen through the lens of psych-funk, like on False Priest. of Montreal isn't bound, musically, by any outside conventions. This is a band that seeks only to evolve from album to album, and Paralytic Stalks they prove that they do that better than any other band working today.
"Ye, Renew the Plaintiff" drops a beat around the minute mark, another instance of the track tearing itself apart. After that disorienting rhythmic shift, a pulsating, straightforward rumination on only a few chords begins, and Barnes can't help himself from shouting "How can I defend myself against this world?" and "I'm desperate for something but there's no human word for it / I should be happy but what I feel is corrupted, broken, impotent and insane!" From there, the confessions continue rolling out, easily, effortlessly as if the dam has finally been breached and Barnes is helpless to cease the flow of confession. "I've become so hateful, how am I ever going to survive this winter / I can think of nothing but getting my revenge, / make those fuckers pay / but it's not gonna happen and it's eating a hole in me!" With that, Barnes is screaming at the top of his lungs through an increasingly wild guitar solo.
With "Exorcismic Breeding Knife" something out of the ordinary happens. Instead of everything being pulled apart, gradually or otherwise, the song starts in utter chaos and remains there throughout the majority of its seven-plus minutes. Toward the conclusion of the song, the chaotic elements come together in a beautifully resolute major chord that emerges from a cloud, at first with a suspension, and is then resolved.
Following this track is the album closer, "Authentic Pyrrhic Remission." It starts off as the most straightforward track on the album, let alone the past several of Montreal albums. The intricately woven, multi-tracked bass-line is present; there are sweet harmonies, a danceable beat and an ultra catchy melody. It's not until the lyric, "every time I listen to my heart I just get hurt" where nearly every instrument drops out of the mix completely, and things begin to descend once again into utter bedlam. Both the song and album close with the gentle sound of a reverb laden piano and Kevin's solitary voice stating the most startling confessional revelation yet: "Til this afternoon I was an exile, but now that word is obsolete. There are no nations, no concept of ego. Our illumination is complete."
With that, Barnes manages to sum up all the concepts he's brought up since "The Past Is A Grotesque Animal" on Hissing Fauna, Are you the Destroyer? That closing line manages to not only find Barnes at peace with his now exorcised inner demons, but simultaneously lets the listener know that we have traveled this path with him, and we have grown together through the journey.
Paralytic Stalks is, in certain ways, similar to many other of Montreal albums. Throughout it, we can never be certain which direction we'll be traveling next. Upon its conclusion, however, we're left with a mixture of closure and expectation.
[audio:http://quartertonality.com/wp-content/uploads/2012/02/03-of-Montreal-Dour-Percentage.mp3|titles=Dour Percentage]
Beginning today Paralytic Stalks is available for streaming on Rdio and Spotify so head on over to those sites and check out the entire album and then head over to Polyvinyl and order one for yourself! There are still some of the limited edition Fuchsia 180g records left, hurry!