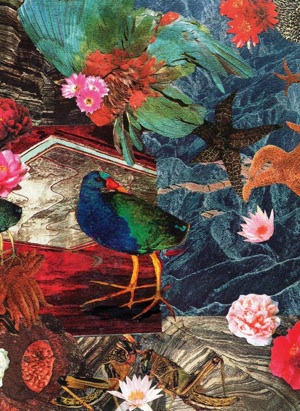 I've wanted to cover some Merzbow tracks for a long time and I think that I am about ready to give it a shot.
For those of you that don't know, Merzbow is Masami Akita, who has been cranking out noise since 1979. In some ways Merzbow is like an electronic Jandek. By saying that I don't mean that there are necessarily similarities in the aural qualities inherent in the music of both, but rather that both Jandek and Merzbow force us as listeners to re-evaluate our own idea of what music and sound can be and what it can mean.
Most reviews of Merzbow's output that I have seen often wander into this philosophical territory, but I want to try and capture the elements in this album that give each song structure and how I think they may be organized. This seems to be, by and large, one major thing that people seem to avoid when talking about the music of Merzbow – and for good reason – it's pretty complex stuff, most of which could easily be cast off as disorganized noise. What I would like to do in this three part series is deconstruct the way that these songs are put together. I'd also like to do away with the idea of there being much that is disorganized in this music. Being that there are only three tracks on the album, two of which are around a half-hour long each, it might be for the best to examine each song in a separate post.
The album is the 2nd of 6 albums that Merzbow has released so far this year. To my ears, as far as the albums that I have heard, this stands as one of his most accessible. "Takahe Collage" opens the album with skipping static and buzzed bass sounds that immediately resemble a glitchy bass and drums breakbeat. This intro section lasts for about 37 seconds before the grinding bass sound dissipates into the ambient structural level that remains in the background for the duration of the track.
The proper first section of the track introduces high sine wave sounds with honest-to-goodness repeated gestures that allow us to get some footing. By 3 minutes into the track the high range is expanded before it disappears past the range of our hearing.
There is a control of the overall density of the sound throughout, though the aforementioned low ambient drone remains. Pulsations that dwell in that lower register are varied, giving the overall sound texture and shape. At about the 5 minute mark the previous sine-wave seems to have mutated at some point into a more square or sawtooth wave and begins mimicking a syncopated line, counterpoint against the pulsations below.
The breakdown and dissipation of the upper sounds with their consequent formation and buildup happens at semi-regular intervals lasting a couple of minutes. Moments of chaos serve to break up those sections of more cogent material. Noise and ambient pulsations become a new silence against which the material is actually projected. That material underneath does not remain as noise. How could it? At this point we are so used to hearing it that it becomes a given. It's not so much noise as it is the new silence.
At 11:40 there is a major shift where all of the material but the bass ostinato are removed completely before new sounds can eventually coalesce. Elements of the material previous to this section seem to flash in and out of focus trying and failing to re-form. A mid-range pitch, middle-C, begins to cut through all other material. It weaves in and out of the texture, seemingly holding its own against a barrage of frequencies from every direction. This pitch is rather important as it is the same pitch as the lower pulsation, but two octaves higher. The structural prominence of the ambient pulsations is becoming more apparent as the track is developing them as they stretch out into other layers of the track. Frequencies in the upper range work their way higher until, after repeatedly fighting through thick clouds of grinding frequencies, at around the 15:20 mark a G# about 3 octaves above middle-C is reached.
The section that begins with that high G# then becomes all about retaining that pitch. Merzbow slides around it, always returning to it and at about 18:25 he holds on to it for a significant amount of time. There is an extremely wide voiced chord taking shape now with several overtones of the low ambience steadying themselves, becoming a solid, fixed point of reference.
Finally at the 20 minute mark we arrive at the next significant shift in sound. There are large swaths bordering on silence as a rather thick D is hit at about the mid range. The middle-C and high G# have disappeared by this point (just before the 20 minute mark break) and we have moved on to a section that is focused on a quick and steady ascending glissando to that D. The ambience moves back in to its place, and before long the track is going at full density again.
The 32 and a half minutes of "Takahe Collage" are broken up into a few large sections, which are in themselves broken up into even smaller sub-sections. Each of these sections have direction, shape and even to some degree a motivic structure. What one would possibly label as "noise" is in actuality, for the purpose of this work, simply the backdrop against which the simpler ideas are placed against.
With this approach, my next post will cover track 2 of the album: "Tendeko."