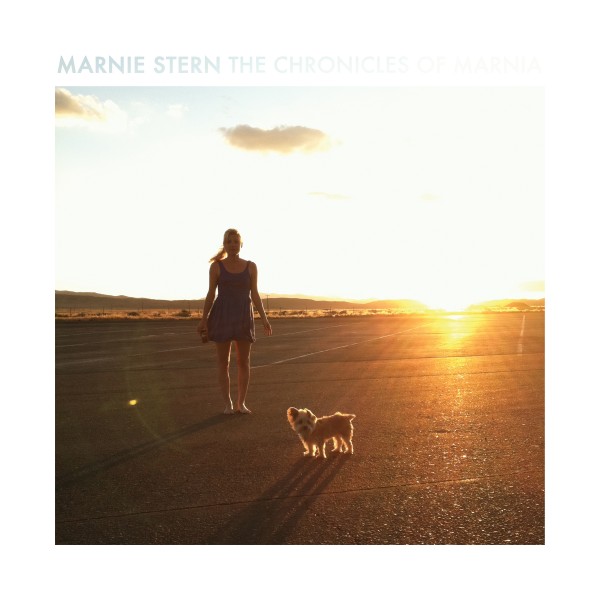 I understand that this album came out 5 months ago, but I also a.) don't care and b.) think that this is not only her best album to date, but probably one of the best albums to be released so far this year.
There has been a constant and steady development across Marnie's releases beginning with "In Advance of the Broken Arm" from 2007. That album was a great statement as a debut. The guitars were mindblowing, the melodies were catchy and the lyrics were deeply personal. That the album starts with a barrage of lightning fast guitar and Zach Hill's bat-shit insane drumming set the tone for not only that release, but for Marnie's sound as a whole.
With each album her overall sound has gotten tighter. The roughness in the production of earlier releases has been replaced with cleaner, more intricately layered guitar lines, with her voice alternating between the familiar highs with the increasing presence of more relaxed and effortless singing in her lower range. For example, on the track "Noonan," we hear the line "don't you wanna be somebody, don't you want to be, don't you wanna be somebody?" sung in the latter part of the song almost unaccompanied, save for a few dropped in guitar chords.
And, sticking with that song, it creates a good deal of space in the verses with different layers of guitars taking prominence, rising and falling in the mix. Marnie is in control of an entire ensemble of guitars. It no longer feels like the guitar tapping that she has been recognized for (and recognized for good reason) is felt to be the primary element of each of the songs.
Though, there is (immediately following "Noonan") "Nothing is Easy," that sounds a bit more like something that would be on an earlier release, but finding places to stretch out, once again. Some of the structures of earlier albums, like the terrific despite its blockiness "Roads? Where We're Going We Don't Need Roads," from her album "This is it…" are abandoned for more standard verse-chorus fair. That is part of what makes this album sound all the more polished. It's the tightening of these structures into more palatable forms that gives "Chronicles" a higher degree of accessibility.
There were always prog-ish elements to many earlier songs that explored tricky meter changes and several otherwise disconnected sections. And though these things worked well in those album, were interesting and part of the overall sound due in no small part to Hill's drumming, the focus throughout "Chronicles" really shows what a great songwriter and vocalist Marnie can be. That is to say that a hint of prog remains, for example in "East Side Glory" and "Hell Yes," but they hardly beg to be noticed, or take anything away from the overall cohesion of the track.
There does remain a degree of experimentation across this record. Stern is shown to be tooling more with the recording process, finding new ways to create textures with an array of different techniques, never relying too heavily upon one over another. As a result the album is more balanced. Perhaps this is partly a result of the departing of Zach Hill on drums, which are also, as a result, trimmed back a little bit. Again, this leaves not only a bit more space but also means that the songs don't always feel the need to be super busy guitar vs. drums affairs. Songs are able to grow and take shape in much different ways.
Each previous release has pointed in this direction. There haven't been any absolutely drastic changes in style from one album to the next, it's just that with each album the elements that have always been present continue to grow and to be improved upon, while shedding a bit of the excess. On the surface the music still sounds and feels complex, but at its core this album is full of songs that are more stripped down but no doubt just as powerful as always.
As an added bonus, Marnie has released a new track for the previously mentioned Adult Swim compilation, "This Was It," which can be heard below. As an added added bonus Kill Rock Stars has put all of Marnie's albums on sale at her bandcamp page for $5 until the end of August. So head over there and download everything. There are also some upcoming tour dates throughout September that are posted below.
Kill Rock Stars//Bandcamp//Facebook//Blog//Twitter//
09/05 Raleigh NC Hopscotch Festival
09/09 Minnapolis MN Fineline (with DEERHUNTER)
09/10 Chicago IL Metro (with Deerhunter)
09/11 Cleveland OH Beachland Ballroom
09/12 Toronto ON Phoenix Concert Theatre with Deerhunter
09/13 Columbus OH Skully's
09/16 Boston Ma Royale
09/20 Lexington KY Boomslang Festival