Luke Roberts' "The Iron Gates at Throop and Newport" is, on its surface, a collection of heartfelt emotional explorations. Continued listening reveals a deeper folk and country influence. Roberts' delicate and finely crafted arrangements are spare one track, fleshed out the next, always finding the perfect balance of instruments to accentuate his plain-spoken lyrics.
The first thing that struck me upon hearing the opening seconds of "I Don't Want You Anymore" slow, droning violin's delicate vibrato and spare guitar chords was the way that it reminded me of Jason Molina's work with Songs: Ohia's final album "The Magnolia Electric Company". This track opens like a country ballad, heartache weighing heavy in Roberts' voice. The violin comments on the emotive quality of the lyrics in its moaning bleat that contributes a deeper level of emotional interpretation. Like many of the songs throughout the album this is a sparse voice and guitar affair, though Roberts' intricate picking can weave a complex harmonic fabric with a great deal of interestingly voiced chords on tracks like "Second Place Blues" and "Cartier Timepiece".
There are only a few tracks assisted by a full rhythm section, moving the songs from the Nick Drake territory of "Spree Wheels" towards the aforementioned Magnolia Electric Co. sound. Luke's voice is clear and low, similar to Bill Callahan, conjured from a very personal place as evidenced from the first person perspective of the lyrics. Though even without the aid of a full band Roberts has a skill in filling the spaces. The excitement in "Lost on Leaving" rolls forward with harmonica and piano in addition to broad guitar strumming and the most hopeful words sung on the album: "With everyone smiling at me". It's impossible not to see Luke Roberts himself singing through a smile as the words cross his lips.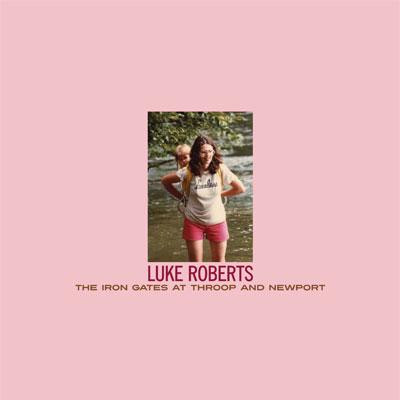 "Will You Be Mine" is strummed brightly as Luke's voice cracks. He follows the line "I need you to call" with an extended pause that puts us as listeners in his place, waiting and hoping in desperation for fulfillment. The track consists almost entirely of two chords, but he shows us what can be done with only two chords in this track and the next track that is equally minimal in its harmonic changes: "Spree Wheels". In "Spree Wheels" the guitar sound morphs into a full ensemble with the lower strings sounding clear and round like an upright bass.
The way in which the songs are recorded brings the listener in closer. From the dry drum sound on "Old Fashioned Woman" to the sound of fingers brushing against the guitar strings as they are plucked, to the directness and clarity of the voice; this album is very present. It's hard to hide mistakes in a mix like this, and that high-wire act of sorts is exciting to listen to. Luke Roberts is a confident performer who doesn't disappoint on any of these songs.
Standing in sharp contrast to the laid back and stripped down nature of the majority of the songs is the arrangement of "Old Fashioned Woman" with its distorted lead guitar line that slices right through every other instrument in the ensemble with a slight amount of reverb and delay that comes off as an otherworldly sound amidst the repeated lulling finger picked steel string guitar. Adding to the colorful arrangement in this track is the simple 2-note piano line that gives a bit more depth, complexity and reinforcement to the guitar line.
With "The Iron Gates at Throop and Newport" the artistry and craftsmanship of Luke Roberts as a songwriter, and guitarist is truly on display. He successfully navigates a wide variety of sounds and textures to great effect throughout.
[audio:http://quartertonality.com/wp-content/uploads/2012/03/08-Lost-on-Leaving.mp3|titles=Lost on Leaving] [audio:http://quartertonality.com/wp-content/uploads/2012/03/06-Spree-Wheels.mp3|titles=Spree Wheels] Head to
Thrill Jockey
right now to pre-order the album. It's set for release on March 20. And if you are planning on purchasing the album in the vinyl format (as I wholeheartedly suggest), Thrill Jockey says:
The vinyl version of Luke's debut Big Bells and Dime Songs sold out upon release, so do not hesitate.