Go ahead: admit the first thing that popped into your head when you read the title. Yeah, that's what I thought, sicko. Well that's not how this reviewer read it at all. I read it as "My blank is Pink" because I am classy and sophisticated and a terrific liar.
Perhaps the provocative title, or non-provocative title as the case may be, serves as the point of entry for the album. Upon reading the title the listener is probably lead to expect something confrontational, something that challenges and pushes the envelope a bit. This album certainly does all of those things to a certain degree. An apt comparison in sound and approach can be drawn from Sleigh Bells to Colourmusic, though stating it that simply is selling Colourmusic quite short.
Sleigh Bells stormed onto the scene with a recognizable "meters in the red" and completely overblown, overdriven sound that, to me, tries a little too hard to get noticed and can be filed away as "gimmicky". Colourmusic tones it down a bit while still maintaining a powerful and edgy sound that is more organic, yet still charged up. It comes off sounding a lot more realistic and believable. The band doesn't have an overbearing synthetic sound. Live drums pound behind shredding, layered buzzsaw guitars.
Those guitars are more likely to churn out riffs that sound like they were ripped straight out of the Black Sabbath playbook, while the vocals tend to sound a bit more ethereal and akin to Animal Collective. Take for example the vocals in the chorus of "We Shall Wish (Use Your Adult Voice)". There are moments there that conjure the same sound-world from which Animal Collective operates with lush multi-layering and plenty of breathy reverb. Colourmusic's songs go beyond exploring one particular sound. The songs have instrumental appeal in addition to those explorations, meaning that they sound like a band playing instruments, rather than creating music that relies heavily upon the manipulation of other sounds. Instead, Colourmusic seems to be interested in having the listener focus on the layers of sound that one instrument or even one note can produce.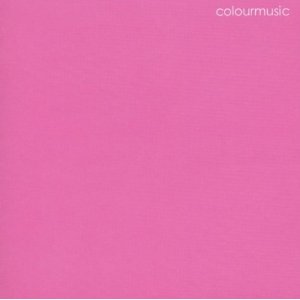 The opening of "You For Leaving" states simply the staccato attack of one chord on a piano that is sustained, allowing the listener to hear all of the overtones intermingling and growing into a mass of sound right before the song opens up to a full chorus and pipe organ. It's an approach that is akin to the work of spectral analysts that compose music where every idea for a composition is literally derived from information that is found in one small fragment of a sound. Colourmusic is adept at extrapolating ideas from sounds but their scientific attention to detail doesn't diminish their ability to write a dancey, fun song like "Dolphins & Unicorns".
That song, like "The Little Death (In Five Parts)", moves between opposing textures starting with a danceable rhythm and moving to more ambient territory. The beginning of "The Little Death (In Five Parts)" though is more like a false start that anticipates a pummeling, raunchy guitar line that is thick and densely distorted, covering plenty of rhythmic ground before the vocals actually begin in a cloud of arrhythmic echoes. The track continues to spend 6 minutes tearing through material that moves from driving guitar work, into a slow dirge of fuzzed out metal before decaying into spacious minimalist territory.
Serving as a counter to all the abrasive guitars are the passionate vocals that appear on tracks like "Feels Good to Wear" and "We Shall Wish" where a sense of longing and pain can be gleaned. The usual ambient effects of the voice in the latter track are placed on the instruments temporarily which is a welcome flipping of the texture. The instrumental breaks cast that song into an arena rock light where the track just opens up , pushing and pulling against the wall of sound that is barely contained by the band.
The band is agile enough to handle jumping between styles and textures even within the same song. They can move from loud and powerful to quiet, spacious and delicate and make it make sense. The construction of their songs is tight enough and logicalto the point where these changes don't seem jarring.
Rounding out the end of the album is the track "Whitby Harbour", which is simply the sound of waves lapping up on the shore. Perhaps this serves as a point of respite from a fairly intense album, or perhaps this is moving more in the direction of finding the music within sounds. A bit of spectral analysis of nature.
This album, "My ____ is Pink", is nearly unclassifiable. It sounds loud and psychedelic in spots, but direct and danceable in most others. Somewhere between electronic and rock with songs that have intricately crafted dynamic shapes and tight, well thought out structures.
It's due out May 10th in the U.S. and you can order it here: http://colourmusic.spinshop.com/
[audio:http://quartertonality.com/wp-content/uploads/2011/04/14_Track_14.mp3|titles=Colourmusic – "Yes!"] [audio:http://quartertonality.com/wp-content/uploads/2011/04/12_Track_12.mp3|titles=Colourmusic – "Mono"] [audio:http://quartertonality.com/wp-content/uploads/2011/04/05_Track_05.mp3|titles=Colourmusic – "You For Leaving"]