Colin Stetson is a saxophonist that is clearly out of his mind.
Sax players, in my experience, are a divided lot. They usually either stay on the side of jazz or classical and never the twain shall meet. More accurately, they will stick with party lines and immediately show their loyalty to their chosen side by hating the other group with every ounce of expendable energy that they have. This means that any energy that is left over after obsessive study of all things saxophone is dedicated to speaking down to the other side. I feel as though Colin Stetson may be an exception to that rule, or maybe he just didn't get the memo. He clearly doesn't think that there is a need to take a side. Perhaps he is creating a new side, because his music sounds like nothing I have ever heard before. If all contemporary composition for the sax sounded like this I would actually pay attention to contemporary compositions for the sax.
His music is a non-stop barrage of sound that searches for, and finds, ways to make a unilinear instrument such as his sound polyphonic. It's not that it just sounds that way, it is. Stetson employs not only a complex melodic line that pops out over a sea of supporting, textural, notes; he uses everything that his instrument and he himself physically has to offer. Percussive key clicks serve as not only drums of sorts, but mimic the pitch and timbre characteristics of the pizzicato plucking of a double bass. Multiphonics, or complex clusters of pitches sounded simultaneously as a result of overblowing certain key combinations, help to not only thicken the sound, but provide unique colors to certain parts of a song.
The circular breathing technique, which is essentially breathing out while breathing in concurrently, means that there doesn't have to be a single break in his melodic line. Ever. For minutes at a time the notes just flow. It's remarkable.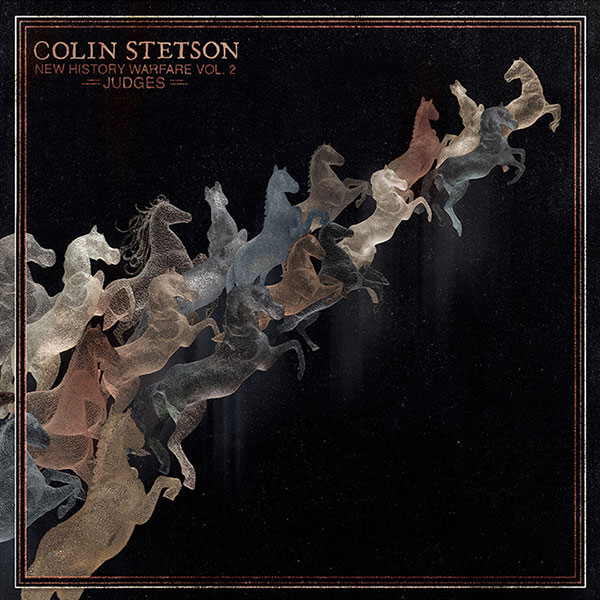 While all of these things are great, they don't make a song in and of themselves. All of these things would mean so much less if they weren't coming from a virtuosic performer of such a high caliber.
"A Dream of Water" takes off like a rocket and doesn't let up. Melodies are hidden inside other melodies, weaving in and out of each other. There is a constant flurry of septuplets rolling through the air while a plain-spoken voice enters, noting observations and asking some questions: "There were those who knew only the sound of their own voices, there were those who knew the rules, there were those who freed their bodies…what was it? What was it?" The voice doesn't simply make the track more accessible to a certain extent but also serves to haunt the listener, making the pervasive rapid notes carry more weight.
With "Home" the percussive techniques are amped up while the general mood is considerably more sedate. Colin sings through his instrument, humming in a way that transforms the saxophone partially into a theremin in its thin and straight tone. He also sings on the track "Judges", but there it is a bit more like a growl or a choked scream. His ability to circular breathe isn't just used to crank out a million notes without stopping, but also to lay down a single foundational pitch like the flat bass pedal tone that remains throughout "Lord I just can't keep from crying" while a soulful spiritual is sung over top. His inhaling can be heard while the bass note continues to grow louder and more intense while this time the sax seems to take on the sound of a didjeridoo.
An entire ensemble of percussive tongue slaps, key clicks, and growls are summoned in "Red Horses" while "The righteous wrath of an honorable man" is pure blazing virtuosity, fingers flying all over across (this time) silent keys. The notes pop and squeal, leaping out of the furiously fast line. The work on this piece is truly awe inspiring. Starting from nowhere and then soaring for two and a half minutes at breakneck speed before abruptly stopping. The end comes suddenly as a car slamming into a brick wall at 80 miles an hour with nary a note out of place.
The album closes with a track that layers multiphonics atop an endless pedal tone, just as in "Lord I just can't keep from crying". Here, however, multiphonics slowly turn to a growl as the volume grows, sounding like something between an overdriven guitar and a siren, until eventually the track slowly fades away.
One of the many great things about this album is that Stetson's bag of tricks doesn't grow tired by albums end. His technique is flawless and his songs are multifaceted. There is just so much to listen to and so much to listen for. On the one hand it's great to just sit back and listen to all of the notes fly by in some of the tracks. Another listen and one can begin to hear the different melodies weaving through each other; another ten listens can easily be spent marveling at how he put this all together without recording over himself a million times.
This album has me spellbound in amazement at his superhuman abilities. "New History Warfare Vol. 2: Judges" is quite an astoundingly daring, creative and virtuosic masterpiece of an album.
[audio:http://quartertonality.com/wp-content/uploads/2011/02/05-From-no-part-of-me-could-I-summon-a-voice.mp3|titles=From no part of me could I summon a voice] [audio:http://quartertonality.com/wp-content/uploads/2011/02/07-Home.mp3|titles=Home] [audio:http://quartertonality.com/wp-content/uploads/2011/02/12-The-righteous-wrath-of-an-honorable-man.mp3|titles=The righteous wrath of an honorable man]