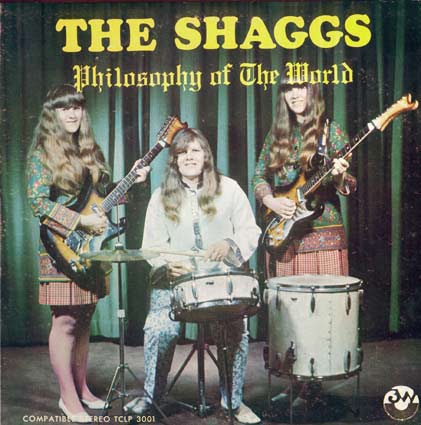 I figured that this would be an appropriate thing to post today. It's one of those things that I coincidentally rediscover every year, and every year that I come back to it I love it more and more.
The story of The Shaggs is easy to find online, as are the quotes from Frank Zappa, who said they were "better than the Beatles" (he's right) and Kurt Cobain also gave them praise in saying that "they were the real thing." The completely unique sound of this group remains mystifying to this day.
The other reason that I find this song, and this group, particularly interesting today is because of a "discussion" in which I was involved today (bordering on heated argument), wherein people were laughing at, while at the same time not paying attention to, some music that was being played. The piece was Pierre Boulez's "Structures I," a notoriously difficult work from both the performer's and listener's standpoint. Boulez's music is highly organized, with every element of the composition brought to fruition through a complex series of operations, and it is unlike anything else in its exploration of sound, simultaneity, timbre, and form.
Pulling off a performance of the piece requires the pianists to test the limits of their concentration. And listening to the piece requires a great deal from the audience; they must be willing to accept the sounds as they come to them, accept those sounds as music and to ask themselves what they think about the piece. They need to think about the piece, and not how the piece was conceived. If they come to the work with a closed mind, having already decided that they are not going to like the piece, or (worse yet) if they leave the piece and decide that it was "bad" without even giving it so much as a second thought, well, either one of those results from, in my opinion, a lack of willingness to understand the music, or a lack of willingness to want to come to an understanding of the music. Basically, it comes from a place of willful ignorance. Everyone is entitled to not like something, but that dislike should be based on something significant, not just that "it sounds bad." Don't even get me started on that one.
Now, I by no means am trying to compare the music of The Shaggs to that of Pierre Boulez. We're talking about two completely different things there. But I think that the point stands: that some people are going to hear the idiosyncratic rhythmic, harmonic, and melodic elements of The Shaggs' music and they are going to be immediately turned off, or (more likely) they are going to mock it for all of the elements that make the music great. Most likely the people that dismiss this music are going to then turn to someone that does accept this music with an open mind and deride them as "snobs" or "hipsters" for their apparent contrarian view.
Yes, the music of The Shaggs is unlike anything else out there, but in my mind that is something to be praised. This album just turned 44, and has outlasted so many of its contemporaries that have since faded into obscurity. Meanwhile 4 girls that were completely outside of the music industry at large made such an impact with their music that we are still talking about it, and more importantly listening to it, all these years later.
Dot Wiggin, guitarist and singer of The Shaggs, has just released (October 28th), her first solo album with the Dot Wiggin Band called "Ready! Get! Go!" You can buy the album here, and check out a new songs here.