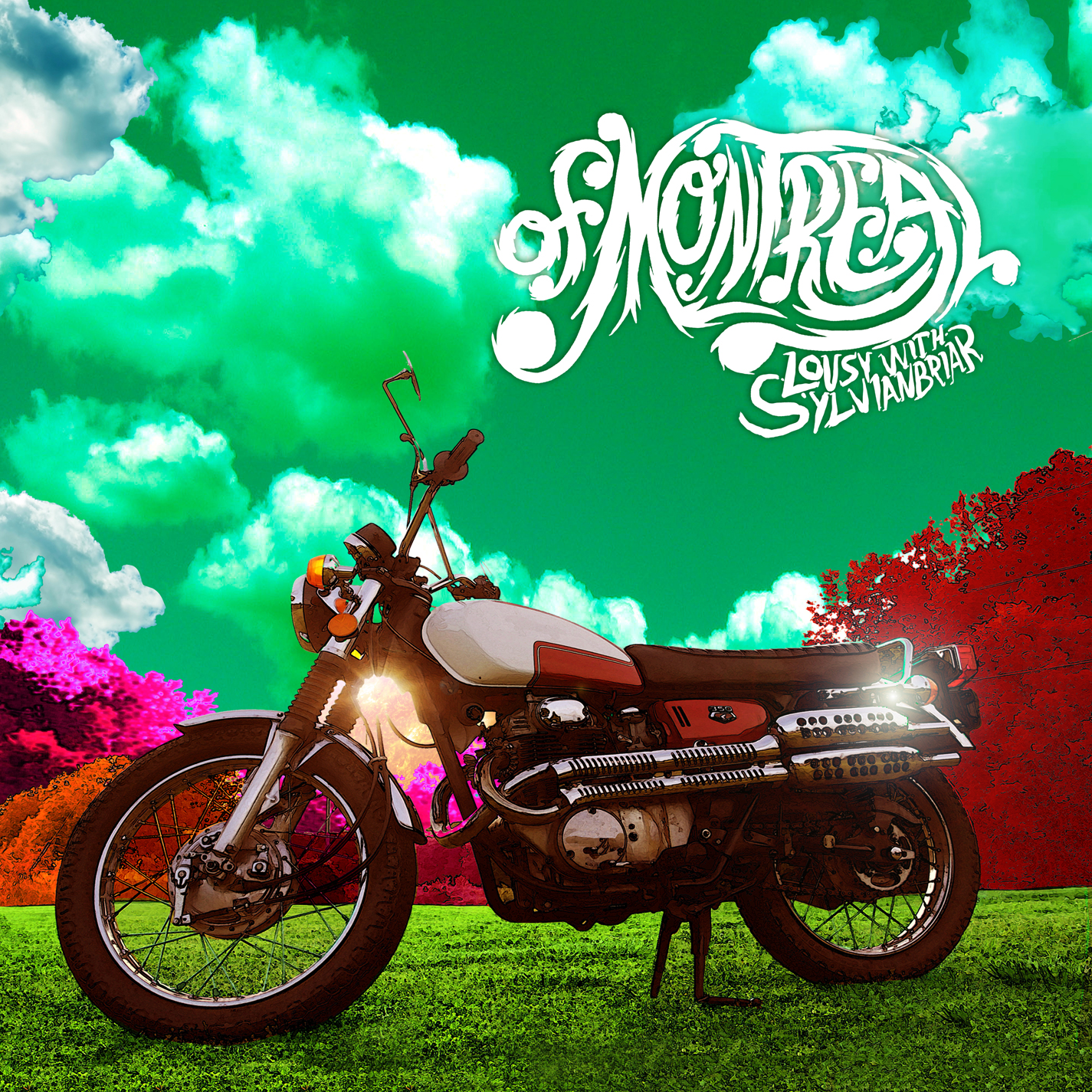 It's always exciting (at least to me) whenever of Montreal releases an album. They have entered the ranks of "band that can do no wrong" in my mind. I have nothing but love for their entire recorded output. So, naturally, as soon as I saw that this album was up for pre-order I jumped on it.
Though, I will have to admit, after reading about the new direction that Kevin Barnes took when recording this album (one would usually do that prior to throwing down cash for the album, but I knew that I was going to end up buying it regardless). It made me nervous to read that "Lousy with Sylvianbriar" was created with a new songwriting approach, a different recording method, and a fresh group of musicians." Ok, I am fine with a new approach (I love "Skeletal Lamping") and I'm on board for a different recording method (I still regularly listen to "False Priest") but what makes me nervous is that last part, "a fresh group of musicians."
What did he do with B.P., why did he ditch Dottie? And Davey! You can't get rid of the bass player in of Montreal! I realize that for years we have been listening to Kevin Barnes' nervous breakdown, but this is crazy. I'm am keeping the faith, though I'm also not entirely sure what the tour will hold. Rebecca Cash has a fantastic voice that lends a relaxed air to the version of "Feminine Effects" that appears on "Daughter of Cloud." I'm hoping that will continue through this album as well.
So yes, I am nervous. But that is exciting. The band….Kevin…..is taking gigantic risks with each release and this is just the latest incarnation of those risks. As a fan it's been great to sit back and listen to the results. He hasn't let me down yet. It's like a trust fall.
We have one song as a preview right now, "Fugitive Air," which will be the opening track on the album. The immediacy of the album's recording process (apparently 3 weeks from beginning to end) breathes new life into their sound. Barnes takes a soulful approach to his vocals that sounds vaguely bluesy, with a touch of scratchiness added to the production. The song's bridge transforms itself into a lengthy coda that changes the overall tone of the song from a song that drives forward to one that floats. Lots of good stuff in this track.
Listen to it a few times and get yourself adjusted and excited. The album is currently available for pre-order from Polyvinyl on CD, Vinyl (180 gram "sea glass green," limited to 1,500 copies), and was also available on green tape (why anyone would buy a tape is beyond me) but it is now sold out.
Polyvinyl//Bandcamp//Twitter//Facebook//YouTube//Web//
Catch oM on tour:
10-18 Athens, GA – 40 Watt Club
10-22 Carrboro, NC – Cat's Cradle
10-23 Washington, DC – U Street Music Hall
10-24 Washington, DC – U Street Music Hall
10-25 Philadelphia, PA – Union Transfer
10-26 Cambridge, MA – Middle East
10-27 Brooklyn, NY – Music Hall of Williamsburg
10-28 Brooklyn, NY – Music Hall of Williamsburg *
10-29 Cleveland, OH – Beachland *
10-30 Chicago, IL – Lincoln Hall *
10-31 Madison, WI – Majestic Theater *
11-01 Minneapolis, MN – Cedar Cultural Center *
11-02 Omaha, NE – Waiting Room *
11-03 Denver, CO – Marquis Theater *
11-04 Salt Lake City, UT – Urban Lounge *
11-05 Boise, ID – Korah Shrine *
11-06 Seattle, WA – Neumos *
11-07 Portland, OR – Wonder Ballroom *
11-08 San Francisco, CA – Great American Music Hall *
11-09 San Francisco, CA – Great American Music Hall *
11-10 Los Angeles, CA – Echoplex *
11-11 Los Angeles, CA – Largo at the Coronet *
11-12 Tucson, AZ – Club Congress *
11-14 Dallas, TX – Trees *
11-15 Austin, TX – Mohawk *
11-16 New Orleans, LA – Howlin' Wolf *
11-17 Atlanta, GA – Terminal West *