It's rough out there, trying to find an audience and undoubtedly getting lost in the shuffle with the approximately 10,000 other bands that release music at a steady pace every day. The internet is jammed full of mediocrity parading as proficiency via PR savvy, and giant bands that manage to focus all eyes on them whenever they so much as hint at the possibility that they are going to be doing something in the future (ie Arcade Fire's incredibly redundant advertising campaign for their latest overhyped album).
So sometimes things that are really worthwhile are released quietly, buried under the aforementioned pile of mediocrity and lost. Thankfully some of those releases get an extra push after a while, allowing them a chance to resurface, gaining back some of the attention that they deserve.
FIM's "Alien Beach Party" is one such release. The 12″ EP initially came out back in early June of 2013, but is available now for purchase on limited editioin vinyl (yes, it's still available), or download (name your own price).
Even though everything that I've read about the band makes use of the "psychedelic" designation, I am going to have to respectfully disagree with such labeling. To me, as far as the lead track "Fast Cars" goes, there is definitely more of a pronounced new wave/dancey vibe to it. Dark synths that sound more like old Casios than analog synths, drum machine, and off-kilter vocals really make that track sound like something straight out of the early 80s.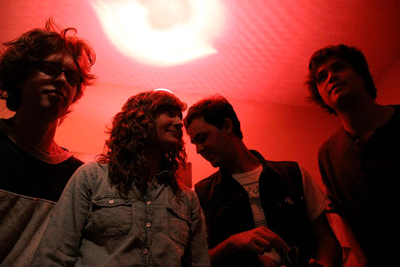 When the bass picks up on "Shit God Dam," throwing down some aggressive, minimalist proto-punk bass in combination with the drum machine now taking a turn toward Big Black territory we can hear the band moving away from that new wave sound a bit. Maybe it's a little less catchy than "Fast Cars," but it features a bit heavier on the harmonic and melodic dissonance, which is a good thing.
The remainder of the EP features similar branching out, from the bedroom production of "Believe," that may be trippy, but "psychedelic" still does not come to mind. And closing the album, the "Flaming Lips" ala "Approaching Pavonis Mons By Balloon"-esque 6 minute synth jam just takes everything in a whole wonderful new , and somewhat unsuspected direction.
So, they have already proven themselves worthy by rising up through all the noise of the oversaturation running rampant in indie-music today. The good news is that you don't have to wait, or pre-order the EP, it's out now. Check it out in full above and then head to the bandcamp page.
FIM has a show coming up at the end of the month, if you are in or around their hometown area of L.A. then get down to The Satellite on February 24th to check them out. Many links below: