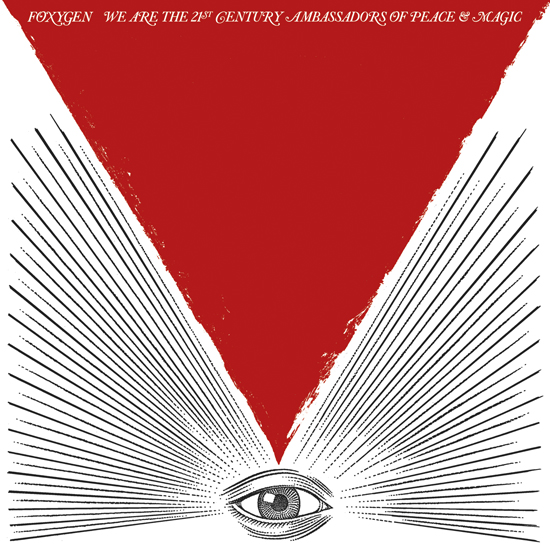 Again, my story is the same as before: I get obsessed with certain albums during the year and other ones that are equally worthy of several listens start to fall by the wayside. Foxygen's "We Are the 21st Century Ambassadors of Peace & Magic" is one such album. And of course after I realized on what I had been missing out I started listening to the album several times a day. I felt like this was a penance of some sort, or maybe in some ways a way for me to "catch up," if such a thing is possible.
The thing is though, that even after all that listening, I still can't quite put my finger on what makes this album so great, and why I can't stop listening to it. There isn't just one thing, it's the amalgam of poppy melodies, retro sounds, catchy hooks and the mixture of sounds past and present. One second there are Beatles-esque horns ("In the Darkness") and the next thing you know Neil Young walks in the room and takes over an entire verse ("No Destruction").
Speaking of Neil Young, it's not like the verse of "No Destruction" simply reminds me of that of "Barstool Blues" from Neil's "Zuma" album (my favorite of his), but it really just is the same verse with the words changed. I'm not faulting Foxygen at all for this, and there's two reasons why: first of all, if you're going to rip someone off do it unabashedly and obviously and steal from the best. Secondly, they use Neil's verse as a starting point, it is merely the seed that the remainder of the verse springs from. They take everything in a different direction. Where Neil's song is tense with pain and heartache, Foxygen finds relaxed thoughtfulness.
There are many points like that across "We are the 21st Century Ambassadors of Peace & Magic." I know that I probably use the term "post-modern" far too much, but it's so often apt for bands lately. Foxygen has some of the same characteristics of Brian Jonestown Massacre or White Fence, where you'd swear up and down that there is no way that this album came out this year. On the other hand, Foxygen retains that ability to use their influences as jumping off points, reaching beyond them, touching upon them and then following them wherever they may lead.
One of my favorite traits of a lot of the songs is the way that the band is able to use a switch from simple-time to compound-time as a means for separating the verse from the chorus, take for example "On Blue Mountain," with the the ultra soulful singing of Sam France taking center stage. And rightfully so, France's wailing in the verse allows one to easily picture him dropping to his knees, arching his back and shouting to the skies, eyes closed, microphone in hand, as he sings "I was looking through a bible." Similar rhythmic modulations and soulful singing appear on the funky, mellotron and synth lead song "Shuggie." The breaks in "Shuggie" take on a life of their own as the funk and soul gives way to a bouncy outro with a tack-piano buried in the back of the mix.
But this soulful rasp that evokes images of James Brown is immediately contrasted with the gentle and sweet singing that appears on the following track "San Francisco," a lilting melody appropriating the wall of sound. Doe-eyed hopefulness and peace are presented with the help of a glockenspiel and distant echoed backup singing.
I suppose, yes, I do hear the Rolling Stones influence through their songs, but to me there really is more of a focus on psych-rock, as evidenced in the shambling guitars and horns of "Bowling Trophies." This really is, simply put, a melting pot of early rock, funk, and soul, and it's a damn groovy album as a result. Every track is noteworthy and catchy as hell, making this one of the year's best albums.