I have been waiting to see Shellac for several years now. The opportunity came and I seized it. I didn't even have to go to Chicago, like I planned on doing back in 2007. Shellac came to Buffalo on their way to ATP in Monticello and brought Helen Money with them, not to mention Tortoise who played the same night at a different venue across town.
Helen Money was the opening act. She is a Chicago based cellist that seems nervous on stage on a personal level, but completely dominates with her musicality. She creates complex songs alone on stage with the assistance of several effects, looping layer upon layer of sound structuring dense music that can seem as though it is improvised except for the clear direction that each of the compositions lead the listener. Money is a phenomenal talent and the audience remained in rapt attention throughout her set, silent and leaning forward in the already small room in order to catch all of the nuance of her music. Her set was varied with music that went from aggressive to subtle, distorted and layered to simply stated. It's always amazing to hear such forceful and confident musical expression from such a seemingly soft-spoken individual.
Quite to the contrary is headliners Shellac. There is very little to nothing subtle about their music. When asked by friends to describe their sound the words that came to mind were abrasive, confrontational, and aggressive. I don't think of these descriptors as negative, though I suppose I'm alone in that thought. I think it sums up their sound pretty well though.
First off you have the notoriously outspoken and opinionated Steve Albini on guitar and vocals. The astoundingly accurate drumming of Todd Trainer beating the shit out of the drums with all of the force he can muster and Bob Weston on bass, vocals and director of in between song Q & A that seems to be just a way of being able to verbally abuse the audience or give otherwise smart-assed answers to stupid questions:
"Are you going to play Copper?"
"Sorry, we're not taking requests."
Of course the next song was Copper.
I worked my way up to the very front, well the very side of the stage right next to Albini and his famous Harmonic Percolator. Since I know all of the songs really well (when I first discovered their music I used to listen to their entire output daily….and I did that the morning of the show as well) I didn't mind that the sound kind of sucked from where I was standing. My mix was mostly guitar and drums, but that was just fine with me.
I didn't bring a camera, so all that I had with me was my phone, with which I took several pictures and one video of terrible quality. Here's one of the photos that displays Albini's "Rainbow Trout" shirt.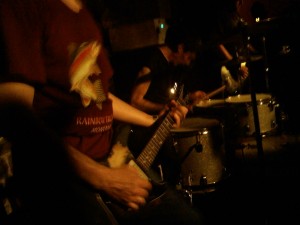 They played all the crowd pleasers: Copper, Squirrel Song, Steady as She Goes, The End of Radio, My Black Ass, Canada… the only song that was missing, in my opinion, was Prayer to God. I thought that they were going to do it because I was privy to all the in between song banter that goes on between Bob Weston and Albini due to my position next to the stage. They don't use a set list, they just hop up on stage and figure out what they want to do. At one point Weston turned to Albini and said, "What you want to do?" which was followed by his hands coming together in a prayer-type gesture. The crowd reacted positively, but Steve must not have been into it that day.
There's really no point to reviewing a Shellac show. They are such a cult act that I'm fairly positive everyone at the show, myself included, was loving every minute of it. The audience was, not surprisingly, made up mostly (90 – 95%) of males, though there was one woman in the audience that found herself at the receiving end of a fairly scathing comment courtesy of Mr. Albini. Now, before I go into the exchange you must understand one thing: The venue, Babeville, is named so because it is owned by Ani DiFranco. Also, this venue that is owned by Ani DiFranco is a converted church, a beautiful, gothic church that was lovingly restored with a significant amount of money.
So…during those Q & A sessions in between songs there was one woman in particular that seemed preoccupied with Steve Albini's shirt. She was more interested in having a conversation with the band than in asking any questions. After a few songs, with Weston trying to stop her from talking, Albini steps to the mic and says, "Could somebody stuff a cock in this woman's mouth, please?", to which Weston immediately turned and said, "Dude, you can't say that here man! We're in Ani DiFranco's church!" I was surprised to see that Albini actually looked like he was sorry for what he said, as if he felt that he had gone too far. Not because of what he said, or that he may have offended the woman, not at all, but rather because of where he was when he said it. He quickly changed his tune and said, "uhhh I mean, could someone please stuff a sparkly gel dildo in her mouth, please?" which elicited a lot of laughter.
Suffice to say that it was an excellent show. No encore. I was really happy to have finally had the chance to see these guys. I did muster up enough courage to have a 2 minute super awkward conversation with Steve Albini as he was packing up his gear. At the end I got to shake his hand. Mission accomplished.