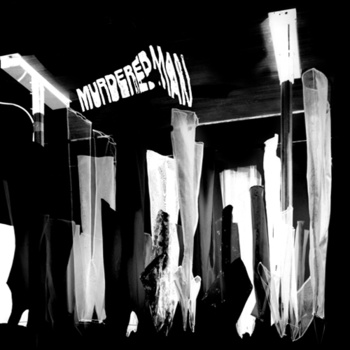 Murderedman is another band that can slide between experimental rock to metal quite easily without changing anything about their sound. Just by focusing on an element and bringing it out, highlighting it slightly they can completely change the context that their music may be heard in. Referential sound, and by that I mean that they are using their own style and keeping everything within that sound to make allusions to a genre that runs parallel to their own. But, at the same time, this makes Murderedman a band without a genre.
Their sound already comes pretty close to metal, which can be heard in the track "Shadow Survived" especially well. The band describes themselves on their bandcamp page as "a mixture of gothic love songs and hard rock death songs that are sure to leave you breathless." But, when I think of gothic I usually think of The Cure, or a band that tends toward the equally moody. Murderedman is nothing like The Cure, though the gothic tag is apt in the overall dark and foreboding sound of the vocals that reverberate somewhere in the background, under the sharp sound of the guitars.
Murderedman's "Love in Danger" release (is it an EP? Is it an LP? Does that even matter anymore?) starts out with the aforementioned dark and foreboding atmosphere in the track "Sleight of Hand," with spastic energy and crazed vocals. Sudden guitar blasts punctuate the vocals before everything loses its footing and collapses under its own weight into a noisy pile of rubble. "Sleight of Hand" is the perfect opener, as it pretty much sums up their entire sound, setting up the template off which those delicate shifts can allow for genre jumping.
"Halve the Mind" is another demonic, dark song with distant vocals and a minimal, cyclic guitar line. The sound in general is reminiscent of The Wipers, while the extreme leaps of range in the guitar remind me of another band that I wrote about just recently, Bbigpigg. When blastbeats are added to the mix, such as in "In Love While Sober," an element that you don't even realize is missing until it happens, manages to catch you completely by surprise one second and then making total sense within the overall aesthetic the next.
Short bursts of odd time signature off-kilterness as in "My Catastrophe" complement some of the more fleshed out tracks. Though, in my opinion sometimes the shorter tracks seem as though they work better than the 3+ minute tunes. The shorter tracks showcase one idea and don't include any development where they really don't need any. Sometimes, though, the sound of the band, because it is so singular and characteristically original, it begins to come off as a bit redundant. That's why the shading of the sound is such an important aspect, it allows them to experiment within their structures, to find a sound, to try out a bunch of different things.
I always enjoy hearing albums such as this that show a band that is exciting and willing to try new things while being able to present these exploratory albums. You can head over the their bandcamp to hear the whole thing, or check it out above. And according to the band's website though they are on a break for the Winter, they will be back in the Spring with some new tracks. You can also head over there for some other downloads.