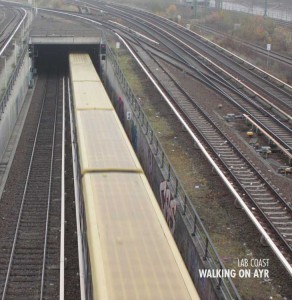 It looks like that Viet Cong post is the gift that keeps giving, as one of the members of that band comes from another Calgary band, Lab Coast.
Their bandcamp page currently has their tape "Editioned Houses" streaming, and for purchase. The tracks on this EP include hard-to-find 7″ numbers, sneak peaks from their latest album "Walking On Ayr", early versions of tracks from that album, and a couple exclusive to this tape, including the side-long B-side jam.
Most of the tracks on here sound like little sketches, or miniatures. Ideas that needed to be worked out, though they still work well on their own. There is a fine layer of chillwave ambience present on all the tracks, no doubt a result of producing straight to tape. The echoed, swirling "Better Than Me" reminds of of the sound of the Paul A. Rosales fronted Wonder Wheel. The guitar attacks just sort of disappear behind the ambient sound, turning everything into a whirling cloud.
All but two of the songs clock in at under 2 minutes, plenty of time to get through at least one catchy melody. Take the breezy, hook laden "Guessing Anyhow," or the folk-blues of "Don't Want to See You" that manages to pile catchy melody onto catchy melody and even build up to a guitar solo and backing vocals in under 2 minutes. Shaping a song to include all of those elements in such a short amount of time is quite the task.
The track below is the album opener for their latest, "Walking on Ayr." "As Usual" has a similar early rock, catchiness to it as the tracks on "Editioned Houses." The main difference, of course, is that the songs on "Walking on Ayr" are more polished, but similarly concentrated into 2 minutes or less.

The entirety of "Walking on Ayr" can be heard above and on the bandcamp page for Mammoth Cave Recording Co. If you are into garage-y, catchy and laid back rock (reminds me a lot of The Fresh and Onlys – another band you need to familiarize yourself with if you haven't already) then this is an album that should be in your collection.
Suddenly the sound of Viet Cong is making a lot more sense. Head over to Labcoast's bandcamp for "Editioned Houses" or head to Mammoth Cave Record Co.'s bandcamp for "Walking on Ayr." And, if you haven't heard Fresh and Onlys, I suggest you get on that too.
Editioned Houses//Walking on Ayr//Mammoth Cave Recording Co.//Facebook//Twitter//