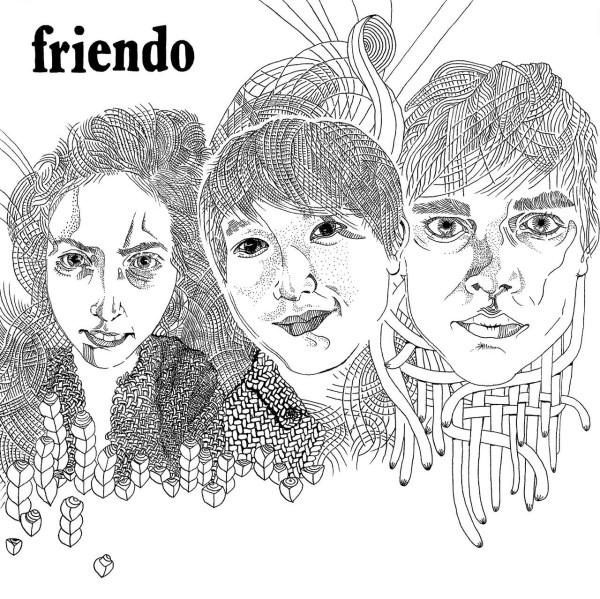 A few weeks ago when I was putting together my posts for Cindy Lee and Viet Cong I kept following links around bandcamp just to see where they would take me. I found myself tracing the paths of each of the members of Viet Cong according to what people were saying on last.fm and just basically chasing threads wherever I could find them and following them as far as I could go.
I came across Friendo, Mike Wallace's former band. If you'll remember Mike is also the former drummer of Women and the current drummer for Viet Cong. I think that there was some overlap with Friendo and Women, by the way. Unfortunately it doesn't look like Friendo is really active at all anymore, but you can still download a bunch of their stuff for free, and of course pay to download their entire "Cold Toads" album. They were a band that sounds to be equally influenced by '60s rock with the added noise and jangle of current art and experimental rock. Similar to the sound of Women in some ways, but the influence of the '60s is much more prevalent in Friendo than it was in Women (except for say the odd track like "Grey Skies.")
Right now on their bandcamp page you can listen to and download 3 tracks from "Cold Toads" and also the song "Pass Times" from the Faux012 7″ that also included songs by Women ("Bullfight"), Cold Pumas and Fair Ohs; you can also download 3 free demo tracks.
Everything that was actually released in a physical format, both the "Cold Toads" LP and the Faux012 7″ have long since sold out, but digital downloads are still available. The LP was released through St. Ives Records, but distributed by Secretly Canadian and the Faux 7″ can be purchased as a digital download here.
Just like their bio says, their songs can be gentle and breezy or disjunct and a bit more abrasive. They work equally well on both ends of the spectrum as can be heard when listening to "Callers," a gently rocking slower song with ethereal harmonies and delicate guitar. Follow that with a song like "Oversees," or "Counter-Time" which are both everything that "Callers" is not. These two songs showcase their noisier side with a guitar that isn't quite in tune and rhythms that consistently drive things straight ahead. All the tracks that are up on their bandcamp page are worth checking out, and the entire album is worth the purchase.
Buy Cold Toads//Bandcamp//Facebook (you never know, maybe they'll come back and post something. Their last update was November 2012.)