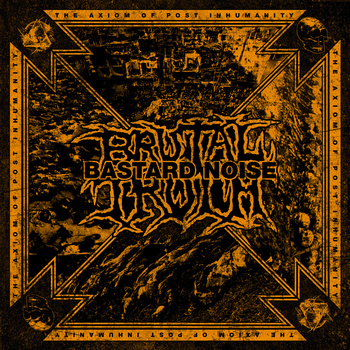 It is no secret that I am a fan of noise music. I've written on the topic more than a few times and I often find myself listening to varying levels of "noise" at home. For some reason I never think of it as anything other than something that is pretty experimental, and therefore in a genre of its own. I never have thought about the implications that noise music may have as a way of reinterpreting a genre, or as using those implications to align itself to a genre. It's understandable that this could be a next step, having noise stand in where other older forms and music/semiotic indicators have grown tired and been wrung dry of any meaning.
Sure, it is experimental, and it is always going to be fairly experimental to present noise as music in and of itself. But if we are to re-imagine noise as yet another degree of abstraction (something I have also already talked about on here) then why can't noise fit into the genre of, say, metal, instead of just being something that only comments on itself, or is merely interpreted as a challenge to everything else?
Late last year, on November 11th, two bands, Brutal Truth and Bastard Noise, compiled a split album entitled "The Axiom of Post Inhumanity" and it works to do exactly what I described in the last paragraph. Noise, on this album, stands in for brutal de-tuned guitar crunch and growled, grind-core vocals. I think that presenting music this way brings a whole new depth to both noise music as well as metal. The noise, for lack of a better term, means something before it's even heard. And, presented in this context, the album is free to explore all of the many possibilities that noise has to offer, much in the same way that a metal album might be shaped. From all consuming intensity to sound that echoes across barren wastelands, the abstraction of sound is starting to bring itself back around to the point that it's not heard merely as that abstraction. This is an interesting, and exciting, step in the evolution of metal.
There is definitely a lot of stuff to grab onto with this album. Many of the tracks are over 7 or 8 minutes long, but each of them is a gripping and intricate display of experimental noise as metal, or maybe it's metal as experimental noise. Either way, this split is worth a listen. Check it out above.