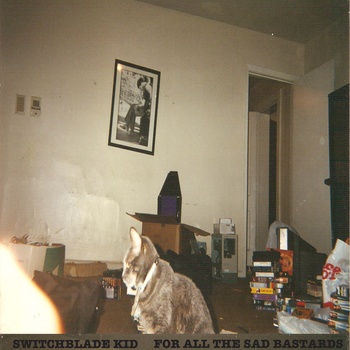 The Switchable Kid is a band from Memphis that creates low(-ish)-fi, moody rock with a retro tinge. In a few words their sound can be described as sounding like a toned-down A Place To Bury Strangers, with a little Joy Division and The Cure thrown into the mix with its brooding vocal, driving and mechanical rhythms and phased-out and delayed guitar textures.
"For All the Sad Bastards" might lack a bit in the continuity department, with variances of recording technique from song to song. The album, released this past October 8 on Miss Molly Records, is actually a collection of previously (incredibly difficult to find) rarities and unreleased tracks. From the band's bancdamp page: "For All The Sad Bastards-Songs I've passed around on CDRs and cassettes to friends from 2002-2012. A collection of unreleased 7″ singles compiled for an album. A real Bonadrag!"
I am going to need to find ways to fit "bonadrag" into my everyday conversations now. It's only natural.
The collection is available as a download (of course) as well as 12″ vinyl, and CD. Head over to the bandcamp page, or listen above, to all of the tracks in full. Skip to the catchy and dark "Hey Beauty," and "The Young Don't Cry;" and then move to the punk attitude of "Sore Subjects." And, despite some of the continuity concerns that I raised above, this collection actually does still span a range of sounds that transcend the garage and punk influences. "Blue," which closes out the album, is slow and thoughtful, with an extra touch added by the use of some brass and the jangling of acoustic guitar strings.
If dark and gritty rock with vocals awash in reverb is as much your thing as it is mine, you won't be disappointed here.