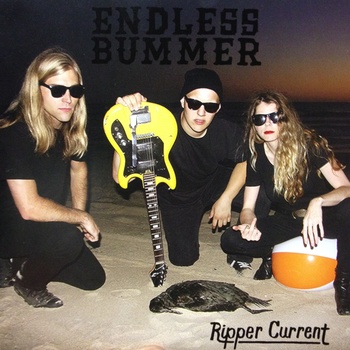 Endless Bummer are comin' at you with 4 tracks of gritty, garage punk mayhem on their "Ripper Current EP."
Lance and Liz, proprietors of Chicago and Los Angeles' "Permanent Records" recorded this 4 track burner with Ty Segall and was released on In The Red Records (home to Ty's ten million bands and some albums by Thee Oh Sees) at the end of October.
Being a fan of their podcast when it was going strong, this album delivers exactly what I expected it to. Short blasts of raw energy that sound like everything that I know they love thrown in a blender and blasted out all over the place in one cathartic heave. There's not much more to say other than take a listen and bask in its glory. Equal parts noise and surf rock.
Check it out above or on their bandcamp page. Also, two other tracks not included on the EP are up on their soundcloud page. Head over there to listen to "B Movie" and "Runaround."
Endless Bummer on Facebook//Bandcamp//Soundcloud//Vinyl//