My Interpol obsession has recently given way to one for Spoon.
Well that isn't entirely true. Interpol went to Matt Good, which went to Of Montreal, and by the time I saw Of Montreal in Buffalo Radiohead had released their new album and I was obsessed with that for a few weeks, listening to it upwards of 10 times a day, THEN I went back to Spoon.
Several months ago, after seeing Spoon at the Pitchfork Music Festival in July of 2006 I began trying to get to know them in earnest. I knew one song when I saw them, "Small Stakes", and they didn't even play it. I stood there, far away from the stage haphazardly filming bits of their set not knowing what the hell was going on, but knowing in the back of my mind that Spoon is an important band that I should know. I soon began listening to as much of their stuff as I could get my hands on. I started with the early stuff, which was not a good idea, because that stuff just isn't quite as strong as more recent material. Spoon, come to find out, grows significantly, noticeably, with each release.
They don't really become a force to be reckoned with until "Girls Can Tell" in my opinion. There are always hints at what they would become in earlier releases, but it is not until that album that they actually find their voice. "Kill the Moonlight" is good too, the same can't be said for "Gimme Fiction" but what can be said is that they are prolific. Spoon is one of those bands that just seems to always be writing, which is a good thing, even if they falter now and then.
They really hit the mark with their latest release, "Ga ga ga ga ga". This album is instantly catchy right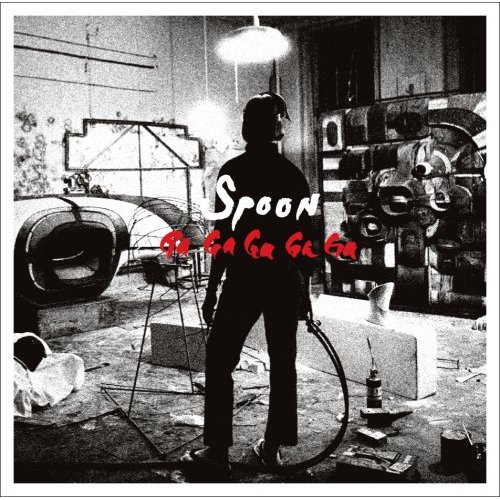 from the first listen. Brit Daniel and company are focused on tight songwriting, and the sound, oh man the SOUND of this album is phenomenal. It's not densely layered like an Interpol album in any sense. Everything is easily heard in the mix. Each of the instruments take up their own space, yet the band cranks away like a machine. The album doesn't feel overproduced, but one can hear the painstaking detail that went into creating it. There are production values similar to Phil Spector on tracks like "You Got Yr. Cherry Bomb" and tracks that have a more live feel to them, like "The Underdog" where everything is up front more and dryer.
I really enjoy Spoon's use of reverb throughout this album. It becomes an element unto itself on many of the songs, especially in "Eddies Ragga" where the main guitar line plays a single chord through most of the verse with the big room reverb being switched on and off to mark the phrasing. Very inventive. It really drives the song, grabs your ear and changes the feel of the song for that split second. I have never known a band to utilize changes in timbre as an element to their songwriting.
The addition of horns on a few tracks also adds a new element to Spoon's sound. "The Underdog", although it sounds very similar to Billy Joel, is one of the strongest tunes on the album. Strong singing with plenty of conviction, a detuned fuzzed out guitar, horns, syncopated handclaps and an acoustic guitar that is properly mic'd, so that one doesn't just hear the pick smacking against the strings (one of my biggest pet peeves).
Throughout the album I am reminded of Frank Zappa's "Absolutely Free", excuse me The Mother's of Invention….we all know it was all Zappa, anyway… throughout much of the album, in between songs and sometimes during, it is possible to hear Brit talking to the engineer, to the producer. One can also hear other band members talking, and other various studio goings on. This gives the album a feel of a quasi-themeatic venture. Sort of like a day in the life of Spoon. It appears as though they would like to project themselves as a studio band, based on what I see in the video for "The Underdog", not to mention earlier videos for "Small Stakes" which also features Brit tinkering in the studio during what seems to be late nights.
This album is fairly solid all the way through. Not perfect, but still great. The best that Spoon has put out so far. They have definitely found their niche, and I hope that they will take more time exploring what they have found while making this album instead of veering off course to experiment. I think that an album like this has the potential to propel a band like Spoon into the realm of leaders of their scene. They are a band with a strong following, and a prolific songbook in the making. There was an excitement that I felt during their SNL performance that was not imagined, Pitchfork picked up on it and Youtube responded. Spoon could soon be heralded as the next saviors of rock (sorry Strokes, Rolling Stone needs to give it a break with you guys). This is a definite contender for album of the year.