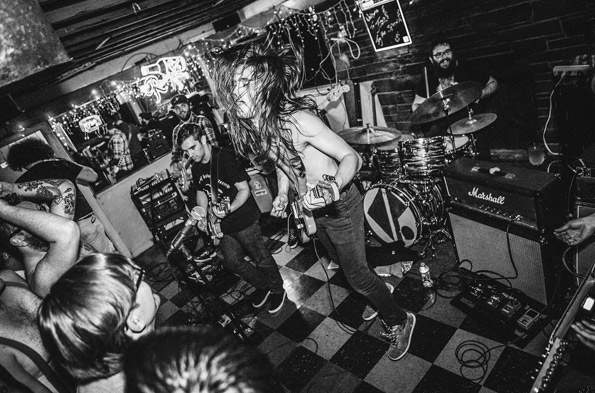 Showing up to the Tiny Tavern just before 8pm, because I know the place is small and I always get nervous that shows are going to be too full or something, seems now like it was a bit excessive. I sat at the end of the bar for about an hour listening to the members of So So Glos and Diarrhea Planet talking and making fun of the horrible musical selections coming in through the speakers of the bar (Counting Crows, Bush, The Wallflowers, Sheryl Crow. I think it must have been from the compilation "NOW That's what I Call Overplayed Watered Down Corporate Shit Rock from the Late 90s that Attempts to Fill in the Enormous Void Left by Kurt Cobain's Death Vol. 3") and eating, though I don't think that any of them really enjoyed the food as when they all got up and wandered outside there were about 8 bowls of weird looking beef stroganoff lining the bar.
I was sitting there just awkwardly observing and catching bits of conversations between the bartender and the bands. "Hey guys, and don't forget," the bartender leaned in to whisper to one of Diarrhea Planet's guitarists, "that there's a radical discount on the food for the bands and roadies and anyone that is traveling with the band." I remember trying to figure out after he said "radical" whether he was using it as a synonym for "significant" or if he was one "hang-loose" hand gesture away from trying to be "cool like the kids." I came to the decision that, based upon his inflection that it was the latter. Another uncomfortable interaction came a few minutes later when the drummer sat next to me at the bar in order to get some food. After ordering, the super-hip bartender with the black pageboy hat (though strangely lacking in the soul-patch department) said "how 'bout we call that….4 bucks?" and right as the drummer was saying "Ok" the bartender gave him a sideways glance and with a half winking eye said "you can talk me down to $3," to which the drummer replied through an uncomfortable laugh "…whatever man." I knew he and I were on the same page in regard to our thoughts on the bartender.
At about this time I was watching a dude that came in with some mic stands set up the monitor. The monitor was pretty much next to the stage in front some overturned tables and surge protectors that were dangling delicately from the ceiling, a perfect compliment to the partially working blinking icicle lights (check the date). As he set up the monitor the mics blared feedback for a good 10 minutes at 5 second intervals. A delightful array of ear piercing ultra-high frequencies assaulted our ears, yet nobody seemed fazed. As the monitor guy walked back toward the bar to excitedly talk about the app that he uses to single out the frequencies that are feeding back he said "Ok, I've gotta run." It was at that point I realized that there was going to be no sound guy, he came in, set up the mics, made them squeal a bit, turned a few dials counter-clockwise a bit, drank a beer and left. All in a days work.
It was quarter to 9 and I was still the only person there not in the band. Well, that's not completely true, there were some unsuspecting regulars that had no idea there was going to be a show and the possibly domestically challenged man in one of the booths that had drank a pitcher of PBR and fallen asleep. One of the guys in So So Glos wondered aloud "So where is everyone?" This was followed moments later by "…so it's just gonna be that guy at the end of the bar?" Despite that being said in a bit of a hushed tone as he headed for the door it was audible from my position at the end of the bar.
Thankfully, about 20 minutes later the audience showed up. I think that they must have coordinated it earlier, like a punk rock flash mob. It seemed as if the entire audience literally walked in at once. The first opener (didn't catch their name because the sound was terrible for some reason) tore through twenty or so minutes of noisy originals and a few covers (was that the theme to Full House?) to an appreciative crowd.
So So Glos took the stage next (and by stage I mean area of the floor in front of the fireplace, next to the aforementioned tables and surge protectors and underneath the Coors Light neon dry erase board with "Don't forget to try the special!" scrawled onto it in that generic font that must be taught to all owners of bars everywhere) and immediately invited the audience to get up, move closer, no… closer, no… closer. They then proceeded to bring out their intense energy song after song. Lead singer/bassist Alex Levine could not be contained, and didn't resist the urge to jump into the audience and climb atop the bar. Despite mistakenly stating, "it's so great to be back here in California," to sarcastic boos (someone yelled back "Yeah! Eugene, California!" we're nice here, we don't care and we forgive quickly) he apologized profusely and carried on. The crowd was amped up after their set, and not wanting them to leave after their "last song" began chanting "USA! USA! USA!" together with "ROCK AND ROLL! ROCK AND ROLL!" until they gave us one more tune. Off to a great start.
I think that part of the reason that we were all so ready to forgive the "California" faux pas is because of their tour schedule. So So Glos and Diarrhea Planet are doing things Japandroids style and touring non-stop up and down the coast and across the country, adding dates as they go. Speaking with lead singer and 1/4 of the shredding department of Diarrhea Planet, Hodan, he said they had been on tour since about the beginning of July and would be going almost straight through until the end of December. So, given that, fine. Call us California, call us Idaho, it doesn't matter.
Diarrhea Planet swiftly began setting up (tooling with the monitor, as if there was a point by now. I think that every member of each band had been tweaking it all night), did a quick check and were off and running. The crowd moshed wildly, resulting in a cascade of beer flying through the air and pooling around our feet. Shirtless dudes gesticulated wildly at the closest guitarist mimicking the hand motions of Jimi Hendrix as he incited flames from his guitar. The band tore through song after song with little effort; these guys could really play well, truly well. And despite there barely being enough room for the 6 of them on the "stage" there was enough room for some true rock showmanship in the form of hair-whipping headbanging, and thrashing about on the floor while flying through a guitar solo sometimes with Hodan on his knees arching such that the back of his head rested on the floor as he continued to wail. There were a few covers as well, one as (I think) a comment to the garbage that was on the radio while they were (not) eating at the bar. That song was another from the wasteland of late 90's corporate shit rock: Lit's "My Own Worst Enemy" which was started on a whim by one of the guitarists and the rest of the band just picked up on it. They managed to get through an entire verse and chorus, with the crowd dutifully singing along and thrashing about before the band said "Ok, we can't do that shit anymore."
It was a great show. All the way through from the opener to So So Glos to Diarrhea Planet. It was such a great show that as everyone began to realize that it would soon come to a close we all kept yelling "ONE MORE!" until Levine came back to the stage sans bass to lead in an amazing 4 guitar version of Beastie Boys "(You Gotta) Fight For Your Right (To Party!)." The crowd went insane, yelling along, hoisting people in the air while watching the leader of So So Glos climb onto the bar again. Things got a little crazy as the crowd sort of invaded Diarrhea Planet's space, but they all had giant smiles on their face. Everyone in there was having a great time.
Speaking with guitarist Emmett after the show, while buying some merch, he kept saying how great the tour was going. I mentioned that it must be awesome to have been getting attention from NPR and the New York Times (the review was published only two days prior) and a tour that will not stop. He was genuinely excited and said the entire band was still amazed and incredibly grateful for all the press. He swore that they would be back, as they loved the crowd and our city. When they do, I'll be right there at the front again screaming along with everyone else.