(Originally posted to Tympanogram on July 31, 2012)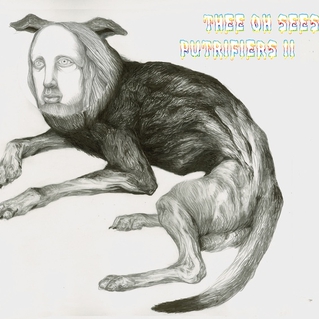 I was in Chicago a few weeks ago for the Pitchfork Music Festival, which is always a great place to scope out the music that everyone else is already excited by, but I have somehow missed the boat on. It's a good way of forcing myself to get obsessed with new things, and this year was definitely good for that.
I'm sure I've come across tracks by Thee Oh Sees recently, but so many things tend to get lost in the shuffle when you listen to so much music. The point here is that sometimes it takes a band to kick your ass thoroughly live to get you to understand how worth your time their music is. The most recent album by Thee Oh Sees is last years excellent Carrion Crawler/The Dream, but I'm urging you – no – pleading, begging and demanding that you see this band live. Sure the recordings are great, but I think that I'm adding my own memories of the two live performances I caught in Chicago. The albums aren't able to really capture all of the energy, and to be honest the tempi are significantly slower on all of their recordings than live versions. It would be impossible to sum up their sound in a short post, but let's just go with this: noisy, psychedelic garage rock not unlike Ty Segall or White Fence but with catchier hooks and more space-echo.
Thankfully they also have a new album coming out on In The Red on September 11 called Putrifiers II. They recently released a track from it, "Lupine Dominus", that is noisy and bass driven like so many songs off their previous efforts like Carrion Crawler/The Dream and Help. John Dwyer's crazed vocals take more of a back seat to Brigid Dawson's, but the track still manages to showcase their hypnotic and reverberant sound. Check it out, and check out everything you can by them, many of their recent efforts are available on Spotify. They are also all over the country on tour throughout the summer, so be absolutely sure that you check them out.
[audio:http://quartertonality.com/wp-content/uploads/2012/08/TheeOhSees_LupineDominus.mp3|titles=Thee Oh Sees – "Lupine Dominus"]
Check out Thee Oh Sees: Web | Facebook
Catch them on tour:
08/03/2012 Pickathon Happy Valley OR
08/04/2012 Pickathon Happy Valley OR
08/05/2012 Woodsist Festival Big Sur CA
08/11/2012 Outside Lands Festival San Francisco CA
09/09/2012 El Rey Los Angeles CA w/Sic Alps + The Mallard
09/10/2012 Bar Pink San Diego CA w/Sic Alps
09/11/2012 Bunkhouse Las Vegas NV w/Ty Segall
09/13/2012 Gothic Theater Denver CO w/Ty Segall
09/14/2012 ACM @UCO Oklahoma City OK w/Ty Segall
09/15/2012 La Zona Rosa Austin TX w/Ty Segall
09/18/2012 Goat Farm Atlanta GA w/Ty Segall
09/19/2012 The Bottletree Birmingham AL w/Ty Segall
09/20/2012 Zombie Shop Nashville TN w/Ty Segall
09/21/2012 Strange Matter Richmond VA w/Ty Segall
09/22/2012 The Well (Wick) Brooklyn NY w/Ty Segall
09/23/2012 ATP Asbury Park NJ
09/25/2012 Town Ballroom Bufffalo NY w/Ty Segall
09/26/2012 The Hoxton Toronto ON w/Ty Segall
09/29/2012 High Noon Saloon Madison WI w/Ty Segall
09/30/2012 Turf Club St. Paul MN w/Ty Segall
10/02/2012 VFW Missoula MT w/Sic Alps
10/03/2012 Broken City Calgary AB w/Sic Alps
10/04/2012 Broken City Calgary AB w/Sic Alps
10/06/2012 Rickshaw Theater Vancouver BC w/Sic Alps
10/07/2012 Neptune Seattle WA w/Sic Alps