(Originally posted to Tympanogram on June 26, 2012)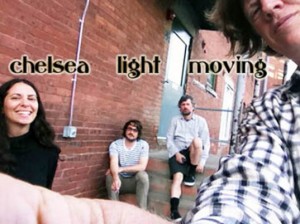 As a Sonic Youth obsessive, I take it as my duty to inform everyone that Thurston Moore has formed another new project. The name of this new venture is Chelsea Light Moving and they popped up out of nowhere late last week on the Matador Matablog.
Thankfully the band sounds like they are interested in more of the late Sonic Youth aesthetic than they are in the solo Thurston Moore sound. The track, "Burroughs," comes off sounding like a B-side for The Eternal or Rather Ripped, with an upbeat and noisy verse, sharp guitar stabs, and an extended exploratory coda. This track captures the energy that I believe is missing from Thurston's Demolished Thoughts effort. It sounds raw, exciting, and it doesn't even matter to me that this is probably the millionth track attributed to the influence of William S. Burroughs that Moore has penned.
The band is rounded out by Keith Wood on guitar, Samara Lubelski on bass, and drummer John Maloney. According to the Matador press release the track was recorded and mixed May 18-20, 2012, by Justin Pizzoferrato at Sonelab, Easthampton, MA. And there are some (very few) dates posted for Thurston, with no mention if it is him appearing with solo material or with new Chelsea Light Moving tracks. We are promised another track in a week though, so be sure to check back and grab that one as well.
[audio:http://quartertonality.com/wp-content/uploads/2012/06/chelsea_light_moving_burroughs.mp3|titles=Chelsea Light Moving – Burroughs] Chelsea Light Moving |
Blog
Upcoming Thurston Moore US dates:
June 24 – Missoula, MT The Top Hat
June 27 – Bouler, CO Boulder Theater
June 29 – Denver, CO Larimer Lounge