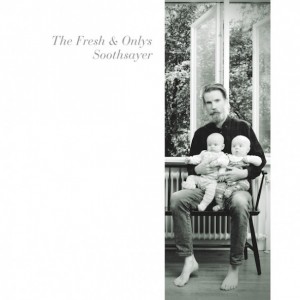 After taking somewhat of a different path for the past couple of albums, moving away from the reverbed, garagey jangle of the first few albums, that sound made a return on the latest EP, "Soothsayer," from The Fresh and Onlys.
The 6 song release covers a lot of ground, from the surf rock of "God of Suez" to laid back catchiness of "Drugs," with a bombastic chorus following a more subdued verse. "Violence, violence, is that all that we are?" It isn't so much a verse as it is a pre-chorus of comparatively sombre material that is made to sound all the more subdued after the chorus comes crashing in. The chorus' bluesy burst of fist-pump inspiring energy is reminiscent of "Peacock and Wing" from the bands debut release.
The final two tracks on the EP sound like they came out of the same basic idea. It's as if "The Deluge of War" picks up exactly where "Drugs" left off. It's a great way to end an EP. It works really well after some of the
Though it's always unfair to continue comparing a band to their first release, and I know that I am constantly guilty of making such comparisons, but "Soothsayer" is a completely different animal. The psychedelia has been toned down in spots ("Forest Down Annie" and "Glass Bottom Boat"), and the poppier, upbeat hooks have been dialed up, which I think is a good compromise. Those more subdued tracks are placed well at the center of the EP. And those two tracks, "Forest Down Annie" and "Glass Bottom Boat," are not to be forgotten about either; they both have a relaxed sentimental quality to them. The fade-out of "Forest Down Annie" is a particular highlight.
Though they have just wrapped up a West Coast tour, there is still good news: a new full-length is forthcoming. Keep an eye out for that one. I'm sure that I'll be writing about it when it is released. Check out the "Soothsayer" at the Spotify link below, and order a copy from Mexican Summer, it's out now.
Order Soothsayer EP//Web//Spotify//