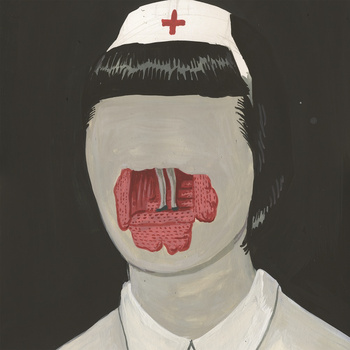 This album was brought to my attention through the Permanent Records email list, my favorite record store in Chicago (they have recently opened shop in Los Angeles as well). "Come" is Philadelphia's Psychic Teens' second full length record. Part psych rock, part garage rock, part abrasive noise. From the sneering vocals and angular guitar bending of "NO" to the buzzsaw dissonant counterpoint of "RIP" and the feedback assault of "BUG" the entire album creates beauty through hazy, gritty guitar noise and a punchy bass with punk-rock drumming.
The hooks are there, just below the surface. The mix and overall aesthetic of Psychic Teens reminds me a little bit of The Telescopes, or even My Bloody Valentine mixed with White Hills in parts. An element of shoegaze is present, but not as a rule. Take, for example, album closer "VEIL." That song's slow dirge, with gently chorused guitar, holds back the flood of a Russian Circles' circa "Enter"-like thick wall of bass heavy distortion. During moments like this it's difficult to determine whether this should be categorized as straight up metal.
The standout for me, however, is the hypnotic half-step foundation of "LUST" that is periodically broken up with a slightly out of tune 2nd guitar. The entire thing shifts considerably upon the entrance o a heavy dose of feedback squeal and a metal power-chord crunch that leads into a four-on-the-floor stomp.
I guess you could call it whatever you want as long as you listen. The band can readily move between and beyond categorization with very little effort. They seem to be placing themselves right at the edge of several intersecting styles. Another great example of the diverse Philly music scene.
Take a listen to the album above or on the SRA Records bandcamp. Albums are available in a variety of formats including CD, oxblood colored vinyl, and cassette with a few bundles that include a variety of other things thrown in for good measure.