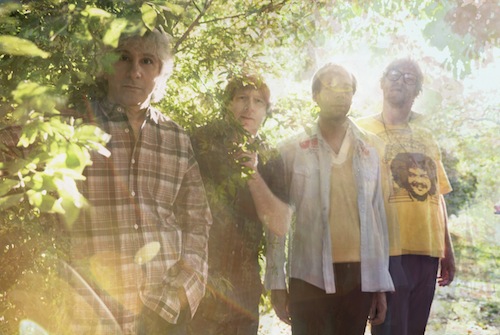 It's still so strange to me to have to write, or even think, the phrase "formerly of Sonic Youth" or "ex-Sonig Youth," but I think that we are all just going to have to somehow learn to get through it. We can do this. Together.
I'm not sure what makes it more disapointing: that we will not (most likely, but hopefully maybe there is still a possibility of a shred of hope that maybe we will?) hear another note by Sonic Youth, or that the ex-members have really not been making the kinds of albums that I can really get behind.
Ranaldo's last album (what everyone seemed to refer to as his "first solo album" or, when people that should know better finally realized that it wasn't his first solo album, his "first song-based solo album" as if what he had done before couldn't be called songs for some reason?) "Between the Times & The Tides" was something that I could just never get into. I tried, oh how I tried. It just sort of fell flat. I know that that is unfortunate and unfair, in that on its own its actually a decent album. But, there is no way that I (or probably anyone) can listen to it (or anything that he does) without inadvertently (or maybe overtly) comparing it to Sonic Youth's material.
On October 8 Matador will release Ranaldo's latest, "Last Night on Earth," with band The Dust that includes drummer Steve Shelley (Lee Ranaldo: now with 25% Sonic Youth!), Alan Licht and Tim Lüntzel. Listen to the track "Lecce Leaving" below. It immediately sounds richer and fuller than most of the material on "Times and Tides." The band works well together to create a dynamic sound that is considerably more dense and contrapuntal. Shelley's drumming adds the perfect touch, as does the slide guitar, steel string acoustic and keys. It's a 7 minute tune that I almost wish would go on for 20. Though the lyrical content is admittedly darker, I can't help but think that the arrangement is joyful in parts, or excitable at the very least, until the coda where things resolve in an unsettling, dark manner.
The album is available for pre-order on CD or LP from the Matador store, and as a download from iTunes. And check out Lee's site here.

Tour dates for Lee Ranaldo & The Dust:
North America :
Tue-Oct-08 Hudson, NY Club Helsinki
Wed-Oct-09 Buffalo, NY Tralf Music Hall
Fri-Oct-11 Toronto, ONT Horseshoe Tavern
Sat-Oct-12 Detroit, MI Trinosophes
Sun-Oct-13 Chicago, IL Empty Bottle
Mon-Oct-14 Madison, WI High Noon Saloon
Tue-Oct-15 Minneapolis, MN The Triple Rock
Thu-Oct-17 Iowa City, IA Gabe's
Fri-Oct-18 Omaha, NE The Waiting Room
Sat-Oct-19 Lawrence, KS The Bottleneck
Sun-Oct-20 St. Louis, MO The Firebird
Tue-Oct-22 Nashville, TN Exit/In
Wed-Oct-23 Asheville, NC The Grey Eagle
Fri-Oct-25 Brooklyn, NY The Bell House
Europe :
sun 10-Nov-2013 NL GRONINGEN – VERA
Mon 11-Nov-2013 DE HAMBURG – KAMPNAGEL
Wed 13-Nov-2013 DE COLOGNE – GEBAUDE 9
Thu 14-Nov-2013 FR METZ – acoustic show at le musée de la cour d'or
Fri 15-Nov-2013 FR METZ – CAVEAU DES TRINITAIRES – MUSIQUE VOLANTE FESTIVAL
sun 17-Nov-2013 CH LAUSANNE – LE ROMANDIE
Mon 18-Nov-2013 FR FEYZIN – Epicerie Moderne
Wed 20-Nov-2013 FR VILLENEUVE D'ASQ – FESTIVAL TOUR DE CHAUFFE AT LA FERME D'EN HAUT
Thu 21-Nov-2013 UK LONDON – THE GARAGE
Fri 22-Nov-2013 UK CAMBER SANDS – ATP FESTIVAL at Camber Sands
Sat 23-Nov-2013 FR PARIS – Boulogne Billancourt BB MIX FESTIVAL
Mon 25-Nov-2013 FR POITIERS – CONFORT MODERNE
Tue 26-Nov-2013 FR TOURS – TEMPS MACHINE
North America again:
Fri-Dec-06 Portland, OR Doug Fir Lounge
Sat-Dec-07 Vancouver, BC Biltmore Cabaret
Sun-Dec-08 Seattle, WA Barboza
Wed-Dec-11 San Francisco, CA The Chapel
Fri-Dec-13 Los Angeles, CA The Echo