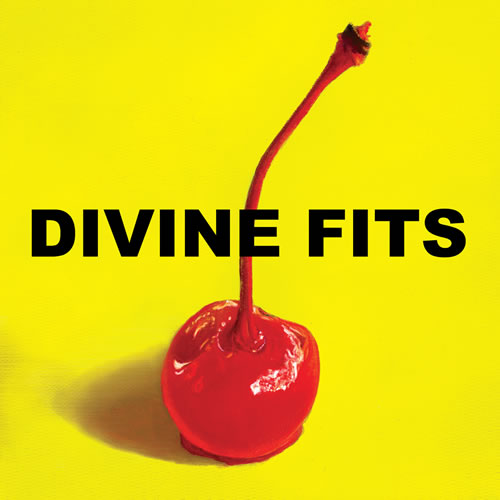 Here I am, waiting for a new Spoon album, and Britt Daniel decides to throw a bit of a curveball. No new Spoon album this year. Instead we get an album by Divine Fits, featuring not only Daniel, but also Dan Boeckner of Wolf Parade and Sam Brown from New Bomb Turks.
Of course there are going to be plenty of comparisons to Spoon's material as this album starts to make its way out into the world, and there are some obvious similarities. Britt's voice is unmistakable, as is the kraut-rock staccato pulse of "Flaggin a Ride", the periodic echo on his vocals in "Would That Not Be Nice", and in general the clarity of the mix throughout the album.
The strength of this album is in its expansive sound, partially due to sharing vocal duties, but with that comes different moods, textures and harmonic directions. Opening track "My Love is Real" is straight up danceable with low-end saw synths and electronic beats. Later in the track some other synth patches add to the texture, but the kraut-rock persistence is traded for heartfelt legato melodies and repeated hooks. The former motorik elements have gone through a transformation, moving them more towards a new wave pop sound.
These elements aren't consistently played against each other from track to track either. "Civilian Stripes" combines a folkier guitar style with a hint of syncopated piano strains peaking through in the chorus. Likewise the sound of "Like Ice Cream" features Daniel's voice over a chord progression that would fit on any of the past few Spoon releases, but a delayed guitar track crackles just below the surface, dirtying up the mix a bit, and the repetitious structure allows the band to stretch out, where Spoon would likely remain bound to a single idea.
All in all it's an album worth spending some time with. "The Salton Sea" is like the album opener with fat synth sounds and electronic beat that brings Divine Fits pretty close to treading into Kraftwerk waters, where "Shivers" provides the greatest contrast with bleak lyrics, and a dark spacious sound of gently strummed guitar.
They are currently on tour in the U.S. through October. Check dates at the site below, and check the other links for any other information you could possibly want. You can listen to the album on their official site, or check out a track below. You can also head to their webstore to purchase the album.
Divine Fits: Web | Soundcloud | Twitter