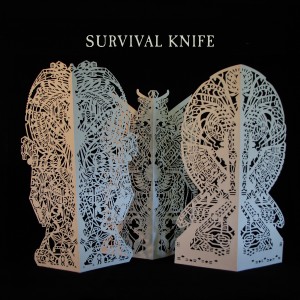 Hard hitting 2 song 7″ from Olympia, Washington's Survival Knife. The "Divine Mob/Snakebit" 7″ will be released through Kill Rock Stars on October 15.
The band consists of Justin Trosper and Brandt Sandano from Unwound, Meg Cunningham from Blues Druid and Kris Cunningham from Western Hymn.
The quick one-two punch starts with the slightly sinister sounding riff of "Divine Mob," that turns out to actually be upbeat, only to turn again after the addition of the vocals (and with the help of some palm muting). The great thing here is the way that the band shows themselves finding ways of adding to the basic initial idea. A contrasting guitar line is added as the song opens up, eventually landing in an extended bridge. The overall sound of the track is heavier than hardcore punk, bordering on metal.
The heaviness is brought out even more in the second track, "Snakebit," which has Meg Cunningham taking over vocal duties. The choppy cut of the guitars moves to angular dissonant sounds, alternating throughout the verse. The highlight, for me, is the extended coda that takes us through the last minute of the song. Noisy, driving, and energetic.
Those three words actually nicely sum up the 7″ as a whole.
Check it out above, and then head to the Kill Rock Stars bandcamp page at the link below to pre-order the download for $2. Vinyl pre-orders are expected to begin shipping the week of October 15.