I haven't had the chance to see Longwave at all in the past 5 years or so. I used to look forward to seeing them at least one time per semester. Those were the good old days, when they were signed to RCA and they toured a lot, and I think they had some money, but RCA never promoted them so they played smallish shows, similar to the ones that they do today, at least around these parts.
Times have certainly changed for these guys. They are no longer on RCA, and the lineup has been consistently changing since the drummer and bass player left before recording started on their 3rd full-length release (the 2nd for RCA) "There's a Fire". "There's a Fire" was a departure for Longwave, who had worked with Dave Fridmann on their first major label release "The Strangest Things" which was decidedly epic, and grand, garnering them compliments from the music press around the world. It is always good to keep changing from album to album, but I feel as though "There's a Fire" was quite a leap of faith on Longwave's part. They were still searching for their fan base, leeching off of fans of The Strokes and other like minded NYC indie bands. "There's a Fire" did away with the soaring echoplex effects and the Radiohead type grandiosity in favor of a very clean sound that was, in a way, stripped down. There was also the use of a recurring motive throughout (I believe lead singer/guitarist/songwriter Steve Schiltz referred to it as the "sea monster") that apparently not too many picked up on.
More lineup changes followed after the tour for "There's a Fire" came to an end and it was a while before work on their new album would begin, though it was hinted at on their Youtube page for about a year before the actual release. When the release date came you'd better believe that I preordered it and waited by my mailbox until it came.
The latest release "Secrets are Sinister" puts Longwave back on top, doing what they do best: catchy melodies, sweeping guitars that overtake everything in their path, interesting new guitar sounds and great rhythmic intensity stemming from drum parts that are slightly less conventional than your average 4-on-the-floor rock beats. Add to this a harder edge than before. It seems as though Steve and Company are trying harder than ever before to put themselves out there, by pure force. This album is louder than any of their other efforts, yet quieter and more contemplative in spots. Everything is amplified and stretched from one extreme to the other. Also Steve's voice seems a little bit strained, but out front and open for everyone to notice. There is a new found honesty in his singing that was missing or covered up by extraneous effects on previous albums. It's a great effort, regardless of what Pitchfork says (and I wouldn't listen to a thing they say because they still can't spell Steve's last name correctly).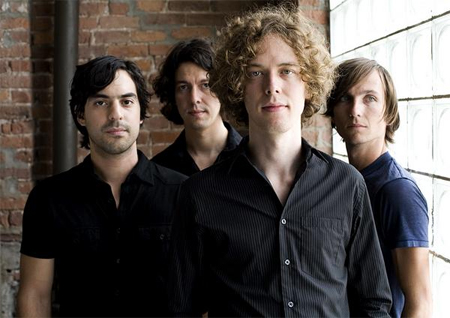 This show at the Mohawk Place, in Buffalo, New York was a make-up show for one that they had to cancel in December. I don't blame them for canceling in December, as they were on their way to a show on their hometurf of New York City, which is much more important for them, or anyone, than Buffalo. It was great to see them in May though. The weather was beautiful and it happened to be on the last day of classes for me, which means that I could proudly say to Steve when I saw him that I had just earned my Masters degree (2 of them). He was so proud of this that after the show he introduced me to people that were asking for his autograph by stating, "This is Adam, I gave him his first guitar lessons and he just finished his Masters degree in Guitar Performance." Needless to say, Steve and I have known each other for several years, and yes, he did give me some of my first guitar lessons back in 1998.
The venue is total shit. It's a crappy biker-ish type of maybe blues bar in not-quite downtown Buffalo. Downtown Buffalo is not an exciting city. There isn't much of a music scene. Anyone that tells you there is, quite frankly, is full of shit. All that exists in Buffalo are the usual mixture of uninspired bar-bands and hard-core/metal bands that will never amount to anything outside of Buffalo. This particular evening was quite lousy. There was hardly any crowd. The people at the bar were complaining about the noise before Longwave took the stage (there was some instrumental post-rock band that never mentioned what their name was on prior to Longwave).
When they did finally take the stage there was a total of about 50 people in the place, maybe a few more. I have been there to see Longwave on several ocassions. I remember the place being quite a bit more packed, but unfortunately they have been away from Buffalo for quite a long time. This doesn't depress me as I know for a fact when they play Chicago and NYC they play in much larger venues to much more appreciative audiences. The set was tight. It featured mostly songs off of "Secrets are Sinister" and "The Strangest Things" with a few brand new ones tossed in there. I was able to make a few requests before they started, and they played all of them for me except for "Fall on Every Whim" because guitarist Shannon was not at the show because he was back at home with his newborn baby. Keith was filling Shannons shoes for the evening and he did an admirable job, and even gained some fans in the audience that began to chant his name at one point after Steve introduced him.
The new rhythm section is great and I truly hope that it doesn't change anymore after this tour. The bassist has his own style and sound that works really well with the guitars and adds another layer of contrapuntal complexity to the songs that comes across very well in a live setting.
I will always enjoy seeing Longwave play. I have never seen them play a bad show and I have been seeing them as regularly as I can since about 1999 after their self-produced LunaSea records release "Endsongs" came out. It has been great to watch them grow and change and make music that I truly like regardless of whether or not I have been friends with them for several years. Longwave is the best band that you haven't heard.
Here are my videos from this show. Please enjoy.